Doesn't it seem like the weeks are flying by! We were hit with snow again this past week! It is crazy how much snow we have experienced this winter season. I really hope winter ends real soon. Don't forget to change your clocks this weekend for Daylight Savings.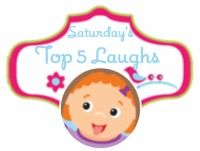 As always, feel free to link up any cute or funny post. Also, check out the other blogs who link up, as they are always so funny. You can definitely take my button or share on social media, although this is not mandatory at all! Have a great weekend everyone.
My top five laughs:
5. Zane was sick again this week. Poor little guy had a 104 fever and was up a lot at night. I took him out of the crib and he was hysterical. However, the minute I put on Yo Gabba Gabba, it was as if, his fever completely went away. YGG to the rescue at midnight!
4. I have said before that Zane is really turning into a talking machine. His favorite old word used to be NO! Now, it is changed to YES but he says it very slowly like Y….E…S… with a Southern tone. He slays me!
3. Hayley is really using her imagination these days. Everything we do, involves her imagination. For hours, we were pretending we were on a tropical beach or we were skiing in our own little fort. I love the way she thinks and plays these days. Too cute!
2. We watched Wreck it Ralph this week, which Hayley loved. She watched it a few times. When I ask her what happens, she said, what do you mean- Ralph wrecks it! LOL!
1. Mommy to Hayley- "Do you want another brother or sister ever in the future?" Hayley to Mommy- "Only if it is a girl! I don't want another brother." The girl is set in her ways. If I ever get pregnant, I will put the memo in that only girls can be made:)
Now your laughs: