Did you all miss me? Did you know that I was even gone:) I had a fantastic trip with my husband to Vegas last week but am glad that I am home again with my kids. This weekend, is my first 5K ever, so wish me luck! Anyway, have a great weekend everyone.
As always, come link up any cute or funny post. Feel free to take my button or share on social media if you like, although this is not mandatory. Definitely check out the other posts that link up as they are always so funny! Let's all laugh.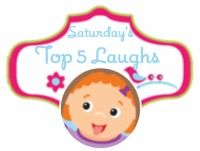 My top five laughs:
5. I told you all about the horrible experience flying out of Vegas last time. We'll, this time when we were flying out, I asked the flight attendant if it would be bumpy. He responded in a cute way, "Let me talk to the pilot to see if we could change the direction we are going." I was laughing my head off!
4. We had four guy flight attendants on the flight home. My husband slept the whole way, so it was a nice visual distraction.
3. When I got home from Vegas, the kids jumped in my arm. They kept saying, "I love you…I love you." That has to be the sweetest thing in the world. I was tearing up!
2. Zane is such a talking machine these days. His new favorite word is to tell me "Okay" but he draws it out like this  O>>>K>>>A>>Y. I have to laugh at him!
1. This one is more cute than funny, but I absolutely love the way they are playing together these days. Just yesterday, I cooked breakfast and both of them played upstairs together for 30 minutes without any fighting. It was pure bliss!
Now your laughs: