This past fall, we got my mom a pair of beautiful and quite expensive pearl earrings. She loved them so much but when she put them on, they kept falling off. The reason is, her hole in her ear is too big and earrings tend to fall through them. She has had this problem most of her adult life and it was unfortunate that she could not wear a majority of earrings. Lucky for her though, there is now a remedy and she is able to wear all her earrings again. The simple solution is called BlingDots from a company called BlingGuards.
BlingGuards makes BlingDots and BlingWraps. My mom reviewed the BlingDots and reported back to me.   BlingDots are earring supports and stabilizers that ensure comfortable and positioned earrings perfectly on the ear. They are mad of hypoallergenic foam that provides comfort and support while lifting the earrings up on your ears.  Earrings no longer droop or fall forward and also greatly relieve the weight of heavy earrings and help stop your ear lobes from stretching.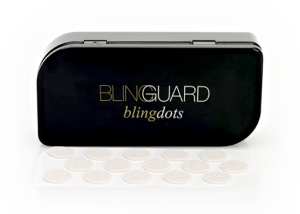 They come with sheets full of BlingDots that you can simply peel off the paper and put on the back lobe of your ear. Once you stick it the back of your ear, you simply put the earring in and slide it through the BlingDot. After they are on, you put the backing on,  as you usually do. When she tried it, she said it was quite easy to do. She had to look in the mirror once to get the hang of it, but after that, did not need a mirror to get them on. They come with sheets full of BlingDots, so you never have to worry about not having enough.

After using BlingGuards for some time now, she is a huge fan and raves about it to all her friends. She says that she can actually wear earrings again, which is something she has never been able to do! The best of all is, for a simple solution, it is only $14.95 and can be purchased at BlingGuard.com. This is one phenomenal product!
We also received the BlingWraps, which are innovative solutions to ring resizing that help keep jewelry from twisting, turning or sliding by adding 1+ ring sizes to your finger. BlingWraps use a patented "padlock" design that is invisible and fits securely beneath your ring to keep it in place. My rings get loose on me and this provides me a way to actually wear my rings without them twisting. It is so awesome! I know a lot of us encounter problems with our rings always twisting, and this is the perfect solution.
Be sure to check out BlingDots and BlingWraps today!!!! I might also add that it is made by Jenny Moore who is a mom of two, and a mom entrepreneur!
* I received products for review purposes. As always, all my opinions are my own and not swayed by outside sources.