28 days until Easter! Is everyone excited? I know once Easter comes, I go into non-stop cooking mode. Luckily, this year, Duncan Hines sent me a large variety of cakes and frostings to try, and bake some wonderful recipes for my family. I was so excited to try the Duncan Hines' new Decadent Red Velvet Cupcakes mix with the cream cheese frosting , which recently won Better Homes and Garden's Best New Product Award for 2013. I also was sent several other varieties of cake mix including Duncan Hines carrot cake and red velvet cake, as well frostings! We have been Duncan Hines fans for many years, so it was quite easy to bake with their products. The Red Velvet Easter Egg Cake Pops are simply delicious! 

I was thinking long and hard of something Hayley and I could bake together. I wanted to incorporate her, with helping me bake, since that is what the holidays are all about- family! After searching and thinking of a fun activity to do, I decided we would make Red Velvet Easter Egg Cake Pops with Duncan Hines Red Velvet Cake Mix. I adopted the recipe from Bakerella's recipe that was seen on Oprah.com.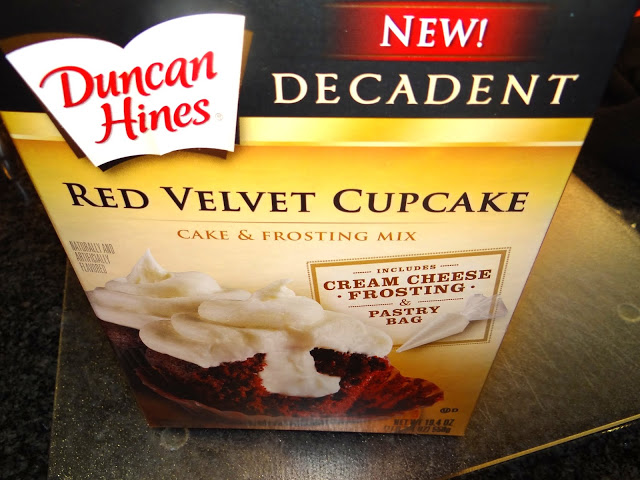 Ingredients:
-1 box Duncan Hines Red Velvet Cupcake Mix, 3/4 can of Duncan Hines Vanilla Frosting  -48 oz. of white candy coating (I did white for half, pink for half) -lollipop sticks -large candy sprinkles -edible glitter marker (found in AC Moore)
Directions:
-Bake 1 box of Duncan Hines Red Velvet Mix in a large pan. Bake according to the regular directions on the back of the cake mix to make a standard cake.
-Once cool- section off the cake into two large pieces. Use one of the pieces of cake and crumble thoroughly into bowl.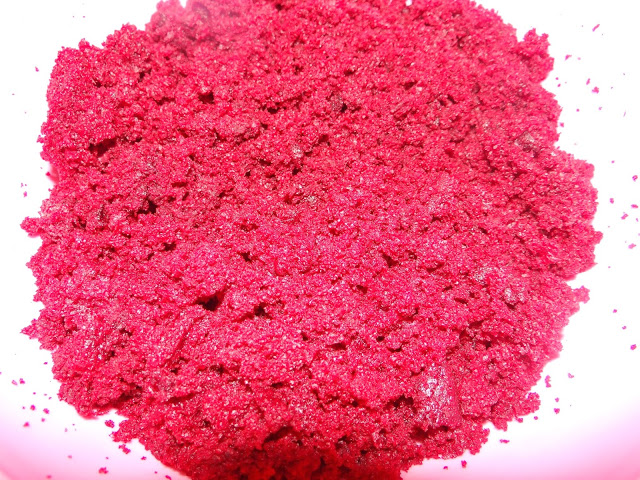 -Add 3/4 of the Duncan Hines Vanilla Frosting to the cake mix and mix to thoroughly combined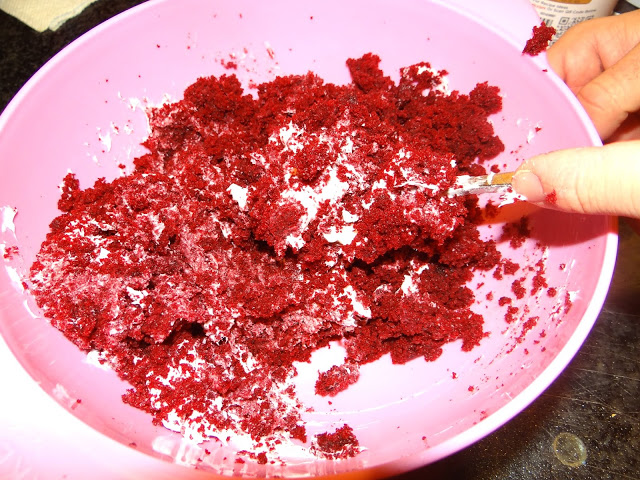 -Roll the mixture into 1 1/2 inch bowls. I found that when I made them slightly bigger, it was easier to dip later on.  Place all the balls on wax paper.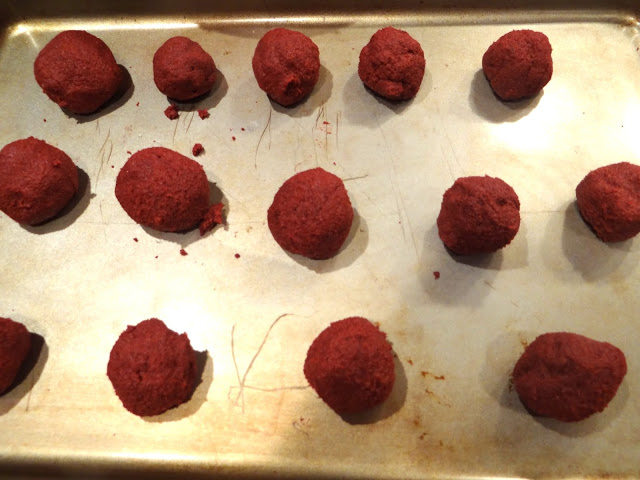 -Place the bowls on the wax paper in freezer for 20 minutes. I found that if it was anything under 20 minutes, the balls were not ready yet to be dipped. I experimented with quite a few until I found the perfect time. While doing this, place the pink and white candy meltings in the microwave until it is fully melted. The candy meltings will serve as your dip for the cake pops.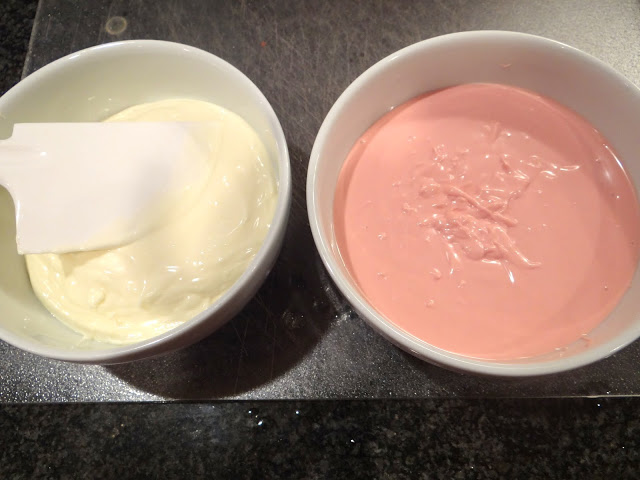 -Take out of the freezer (I advise doing this one by one)  and begin by taking one stick at a time and putting it halfway through the ball. It should not fall off the stick as you put it on. If it is falling off, freeze the ball for a longer time.
-With the ball halfway on the stick, begin dipping in the microwaved candy melts. Make sure the candy coating melting meets at the base of the stick.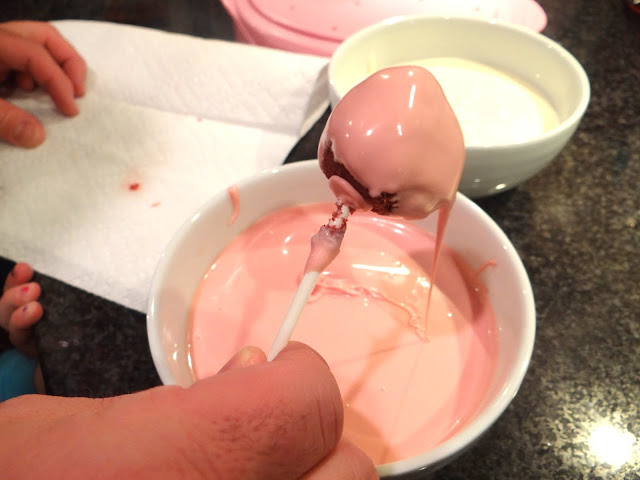 -Put each cake pop on a styrophom holder until it is completely dry. Complete each cake pop in the same manner.
-Once they are all dry, begin decorating your Red Velvet Easter Egg Pops with large sprinkles and edible marker. You can do it with whatever designs you like. Feel free to experiment.
All in all, this was a great project to do with Hayley. I might also add that the Red Velvet Easter Egg Cake Pops truly were fantastic tasting!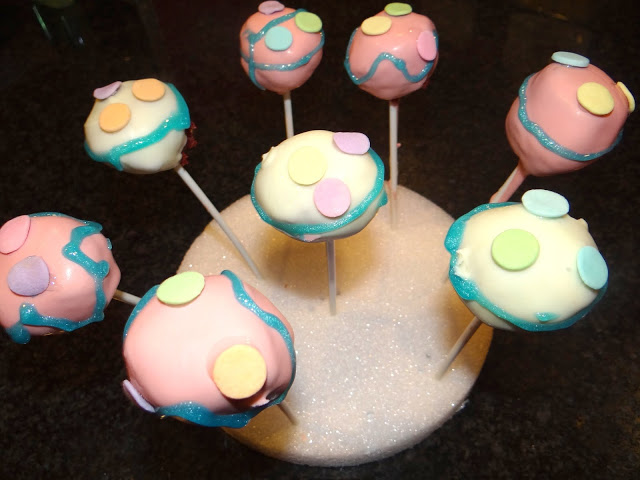 *Thanks to Duncan Hines for providing us many packages for review. As always, all my opinions are my own and not swayed by outside sources.