As moms, we tend to put our family's needs before our own. I know when one of my kids are sick it is all about them! Once I take care of them and they get nursed back to health, you can guess what happens next! I inevitably get sick! By that time the kids need my attention and their mom to be healthy.
Some general tips I try to prevent myself from becoming sick are:
1. Make sure I get a full 7-8 hours of sleep. Sleeping too little or too much, will make you more prone to picking up diseases and such.
2. Take a multivitamin or vitamin C daily. Knock on wood, I get only a handful of colds a year, and I attribute that to my vitamin intake.
3. Frequently wash your hands. Germs are spread so much from hand to hand contact, so avoid germ exposures by frequent hand washing.
4.  Try not to surround yourself with other people outside your relative family who are sick! While you have to be around your kids if you are sick, there is no need to be around other people not in your family when they are sick.
However, even with all of the tips, sickness is inevitable. That is why I always rely on Vicks DayQuil and NyQuil to get me through my days. After all, moms are not allowed to get sick- Are we?
As the #1 pharmacist recommended brands for adults cough/cold/flu, Vicks DayQuil is there to help me power through the long days of taking care of the children! Vicks DayQuil Cold & Flu Relief offers non-drowsy, multiple-symptom relief for those who don't want to lose a moment to a cold or the flu. Vicks DayQuil Cold & Flu Relief helps ease five symptoms of a cold – aches, fever, sore throat, stuffy head and cough.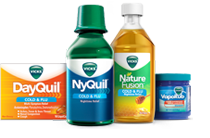 The time-tested formula of Vicks DayQuil Cold & Flu Relief can provide non-drowsy symptom relief for those suffering from a cough, cold or flu. The active ingredients in the formula work to suppress the impulse to cough, help clear nasal congestion for easier breathing, help relieve minor aches and pains, and reduce a fever.
I love DayQuil because I never feel drowsy after taking it. It allows me to feel better to conquer the day with two small children. I am not really sure what I would do if DayQuil was not around! It is one of the only medicines I use daily when I am sick! It truly works wonders.
At night, I use Vicks NyQuil to help ensure that I get a full night sleep so I feel rested and ready to tackle the next day. Just last week, I had a horrible cold. You know the kind-when you have a dozen tissue boxes around and have no energy whatesover. I had so much trouble sleeping on night one because I was so stuffed up. However, on the second night I used NyQuil and it worked wonders for me. I slept gloriously for 7 hours with no cold symptoms.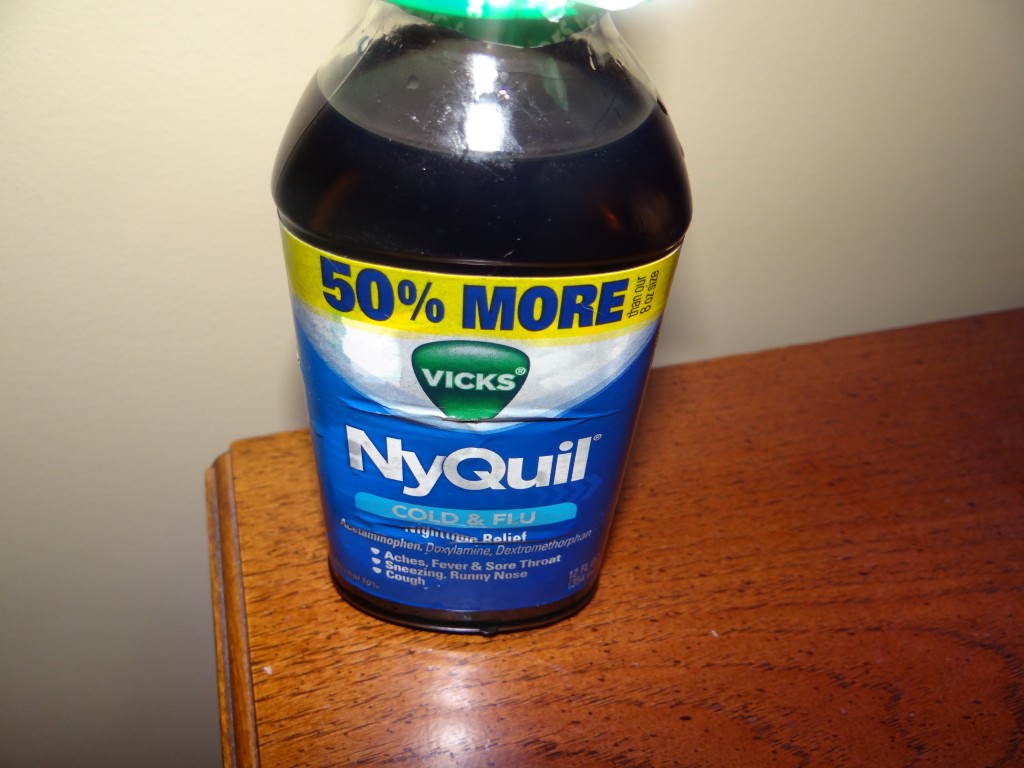 Vicks NyQuil Cold & Flu Relief helps relieve symptoms of a cough, cold or flu so you can get the sleep you need so you don't lose a moment.  The relief provided by Vicks NyQuil Cold & Flu Relief is a result of three active ingredients that work to fight symptoms of a cough, cold or flu. Specifically, the ingredients in NyQuil Cold & Flu Relief help relieve symptoms by suppressing the urge to cough, reducing a fever, alleviating minor aches and pains, and relieving sneezing and runny nose.
I was able to feel human again and take care of the everyday activities of the house by using DayQuil through the day and NyQuil at night. My husband and I have been huge fans of Vicks DayQuil and NyQuil for a very long time. We make sure we are fully stocked up on Vicks products, so they are there,  when we need them. You never know when you are going to get sick, so be prepared with Vicks DayQuil and NyQuil. After all if you are a mom and dad, you will still need to care of the little ones, who don't truly understand the meaning of their parents being sick. They need their moms and dads to be healthy 24/7, 365 days a week!
*I participated in a campaign on behalf of Mom Central Consulting  for Vicks DayQuil & NyQuil. I received product samples and a promotional item as a thank you for participating.