Are your kids big Dr. Seuss fans? Did you celebrate his birthday this past weekend? If you answered yes to either of those, you will want to keep reading!
Kohl's department stores is bringing all the charming stories from Dr. Seuss to children and families across the country with playful and affordable books, and plush toys that will delight readers with their magical rhymes and quirky illustrations. This spring, Kohl's offers exclusive hardcover editions of classic Dr. Seuss books including The Cat in The Hat, Horton Hears a Who!, Sleep Book, ABC's and Happy Birthday to You! along with coordinating plush toys for just $5 each through the Kohl's Cares cause merchandise program. Since the program's inception in 2000, the Kohl's Cares philanthropic program has raised more than $208 million for children's health and education programs in local communities across the country.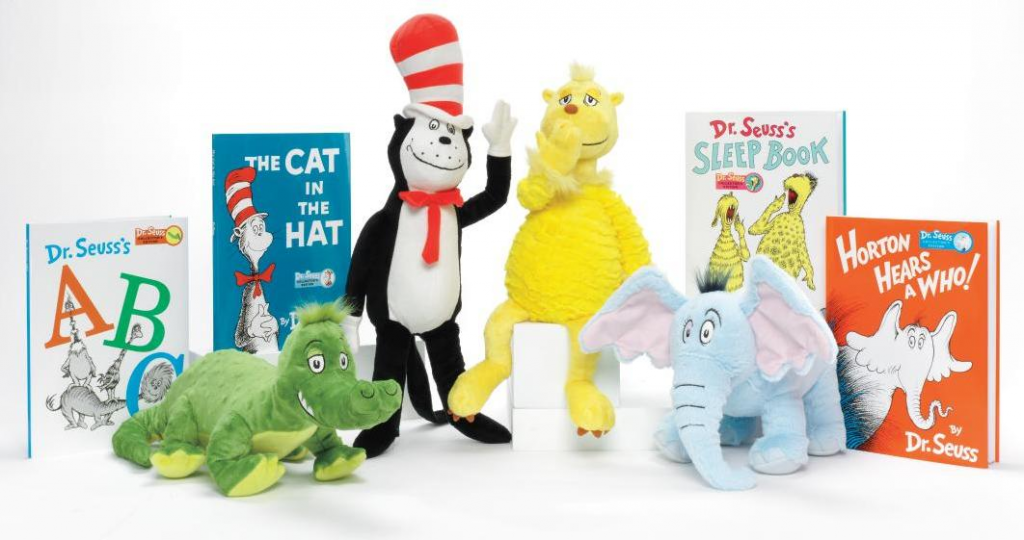 Kohl's will once again feature Dr. Seuss story books in the Kohl's Cares cause merchandise program. Children will be enchanted as they learn to read the whimsical tales from Dr. Seuss, and customers will be proud to support the program knowing Kohl's donates 100 percent of the net profit to children's health and education initiatives nationwide.
Kohl's Cares Cause Merchandise for Kids
The Cat in The Hat and Cat in the Hat plush: Join Dick and Sally as they embark on an unexpected adventure with a giant cat wearing a hat, transforming a rainy day into a fun-filled afternoon.
Horton Hears a Who! and Horton plush: Children adore the story of loveable Horton, an elephant who hears a cry for help from a tiny speck of dust and does his best to protect the tiny creatures who live on it from those who see them as insignificant.
Dr. Seuss's Sleep Book and Sleeps plush: The perfect bed time story that is sure to help everyone wind down from the hustle and bustle of the day – including the grown-ups!
 Dr. Seuss's ABC book and Alligator plush: A quick and colorful way to learn the alphabet with Dr. Seuss and his colorful friends.
ONLINE EXCLUSIVE – Happy Birthday to You!: Everyone loves their birthday and with Dr. Seuss's joyous tale, readers will see firsthand the thrill of celebrating a birthday as it is done in Katroo.
ONLINE EXCLUSIVE – Dr. Seuss's ABC book's Rhino plush: Fun to snuggle and huggle this adorable Rhino plush, kiddos will have a new friend to read with.
Kohl's Cares Cause Merchandise for Grown-Ups
Good Housekeeping Light & Healthy Cooking and Good Housekeeping Drop 5 Lbs: Spring into Healthy Eating with two great books! Following the treats and sweets from the holiday season, testing out new recipes from Good Housekeeping Light & Healthy Cooking and getting diet and healthy eating tips from Good Housekeeping Drop 5 Lbs is the perfect way to stay true to New Year resolutions.
  Dr. Seuss All Occasion Note Cards: As a thank you note or just to connect with a friend or loved one, these delightful all occasion note cards are sure to bring smiles to the faces of recipients with their colorful and quirky illustrations.
In addition to the merchandise program, Kohl's Cares features a scholarship program, which recognizes more than 2,200 young volunteers each year with scholarships and prizes; the Associates in Action program, which encourages associate volunteerism and has donated more than $61 to youth-focused nonprofit organizations to date; and fundraising gift cards for schools and youth-serving nonprofit organizations. For more information, visit www.kohlscorporation.com.
We received a few Kohl's Dr. Seuss Plush Toys and Books for review. I honestly could not believe that each of these wonderful Kohl's Dr. Seuss products were only $5! That is unbelievable and even better, is they will donate 100 percent of the profits to children's health initiatives. Why not go check out Kohl's today and support the wonderful Kohl's Care program by buying the beloved Dr. Seuss plush toys and books today! For any Dr. Seuss fan, you must not miss out on this!
Win it: One winner will receive Dr. Seuss books and Dr. Seuss plush toys. This giveaway is run via rafflecopter so click continue reading to see the actual giveaway. The only mandatory entry is to tell me what Dr. Seuss character is your child's favorite in the comment section proceeding the post. While the other entries are optional, I highly suggest you filling them out to increase your chances of winning. US only. Good luck!
*We received Dr. Seuss products for review purposes. As always, all my opinions are my own and not swayed by outside sources.