I recently found out about an ingenious product called GoodNites Bed Mats that I just had to share with you all. If you have a child who currently has a problem at night bedwetting, or what is called nocturnal enuresis, the GoodNites Bed Mats are just what you need for you and your children.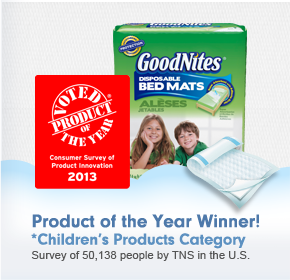 The GoodNites Bed Mats are a highly absorbent, disposable cloth-like mat that is put on your child's sheets to protect bedding. You can see my video below to learn more about this product, but I have to say it has been a real lifesaver. While Hayley is fully potty trained, there have been a few nights when we have had accidents on the sheets. I wake up to her sobbing because her sheets are soaking wet and she feels embarrassed. Luckily, it is not an every night occurrence but when it does happen, it leaves Hayley so upset which gets me upset obviously too!
This is why we both love the GoodNites Bed Mats because it avoids the  unnecessary embarrassment of her telling me, "Mommy, I had an accident and my sheets are soaking wet." By putting the GoodNites Bed Mats on her sheets, all the wetness will be absorbed on the mat and the sheets will be left dry. I was actually amazed that a product works so well- I wish I knew about this product when Hayley had accidents every night!
For a mom, this product has been a true lifesaver.  In the mornings, instead of doing loads of laundry including cleaning the sheets and trying to get the mattress dry, I simply take the wet GoodNites Bed Mat and throw it away. It is that easy!  Moms/Dads, if you are constantly changing sheets and getting frustrated, this is the product for you!
I will be back a few times over the next two months to tell you more about GoodNites Bed Mats. In the meantime, definitely check out my vlog about one of the 2013's Product of the Year award recipient!
*I wrote this review while participating in a campaign by Mom Central Consulting on behalf of GoodNites. I received product samples to facilitate my review and a promotional item to thank me for my participation.