Come celebrate the 60th Anniversary of Disney's Classic Adventure as it soars to new heights for the first time on Disney Blu-Ray today, February 5, 2013!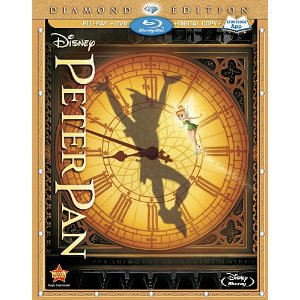 The Walt Disney Studios celebrates the 60th Anniversary release of Walt Disney's classic, Peter Pan, as it soars to all-new heights with a new digital restoration and high definition picture and sound for the first time ever on Blu-ray. The classic tale that taught us all to believe and first introduced us to the Darling children- Wendy, John, and Michael as they flew with Peter Pan and Tinker Bell past the second star to the right and straight on till morning to the enchanted world of Never Land. Rediscover the magical adventure and relive childhood memories of this great bedtime story!
The Peter Pan Diamond Edition Blu-ray Combo Pack (Blu-ray +DVD+ Digital Copy &Storybook App! is a must own addition to everyone's home entertainment collection, filled with high-flying bonus features for all ages that includes-the groundbreaking feature Disney Intermission, Growing up with the Nine Old Men short film, never-before-seen Deleted Scenes and a never-before-heard Deleted Song.
Peter Pan is a timeless classic from Disney's Golden Age of animation. The film is one of three to boast all nine of Walt's famous "Nine Old Men" as Directing Animators, and is a revered audience favorite.  Peter Pan Diamond Edition 3-Disc Blu-ray Combo Pack will be available for the suggested retail price of $44.99 (US) and $51.99(Canada) from Walt Disney Studio.
Peter Pan was executive produced by Walt Disney (Sleeping Beauty, Alice in Wonderworld, Snow White) and directed by Clyde Geronimi (101 Dalmations, Sleeping Beauty, Lady and the Tramp) , Wilfred Jackson (Lady and the Tramp, Alice in Wonderland, Cinderella), and Hamilton Luske (101 Dalmations, Lady and the Tramp). The character were voiced by Bobby Driscoll (Treasure Island, song of the South) as Peter Pan, Kathryn Beaumont (Alice in Wonderland, TV's The Walt Disney Christmas Show) as Wendy Darling, Paul Collins (Evan Almighy, Mother) as John Darling, Tommy Luske (TV's The Walt Disney Christmas Show) as Captain Hook/Mr. Darling, Bill Thompson (Lady and the Tramp, Alice in Wonderland)Mr. Smee/Other Pirates, Heather Angel (Alice in Wonderland, Suspicion), Tom Conway (101 Dalmations, Cat People) as the narrator.
We received Peter Pan yesterday and we absolutely LOVED it so much, that I had to tell my readers about it today. I remember as a little girl watching Peter Pan with my own mom. Hayley already was a huge fan just by hearing about Peter Pan and Tinkerbell in books. While I knew she would like it, what I did not expect was for her to tell me at least 5 times during the movie that it was her favorite movie ever! She kept turning to me and telling me, "Mom, this movie is so good… Mom, look it is Neverland.. look Mom it is Captain Hook… Look Mom, see Tinkerbell."  Her excitement was through the roof. Peter Pan is truly a must see for kids of all ages! The Storybook app that is included with the DVD is amazing too! Be sure to buy Peter Pan Diamond Edition today before it gets returned to the vault.
To get you excited for today's release, I have included some fun party kit activities for your children to do:

*I received an advanced copy for review purposes. As always, all my opinions are my own and not swayed by outside sources.