What if I tell you that you could earn money while you are waiting for the doctor? What if I tell you that you can earn money while waiting for your coffee to be made? What if I told you that you could earn money while you are waiting for a friend for lunch? You would probably look at me and think in your head, "Sure..I can't make money this way!" Truth is, now you can with the awesome app called iPoll!
Everyone is looking for a way to make a little extra money. Whether it is saving up for a family summer vacation or working to pay off bills from the holidays, every little bit helps. iPoll, an app available on both the iPhone and Android platforms, is an easy way to earn a little extra money on the side while doing regular, daily activities.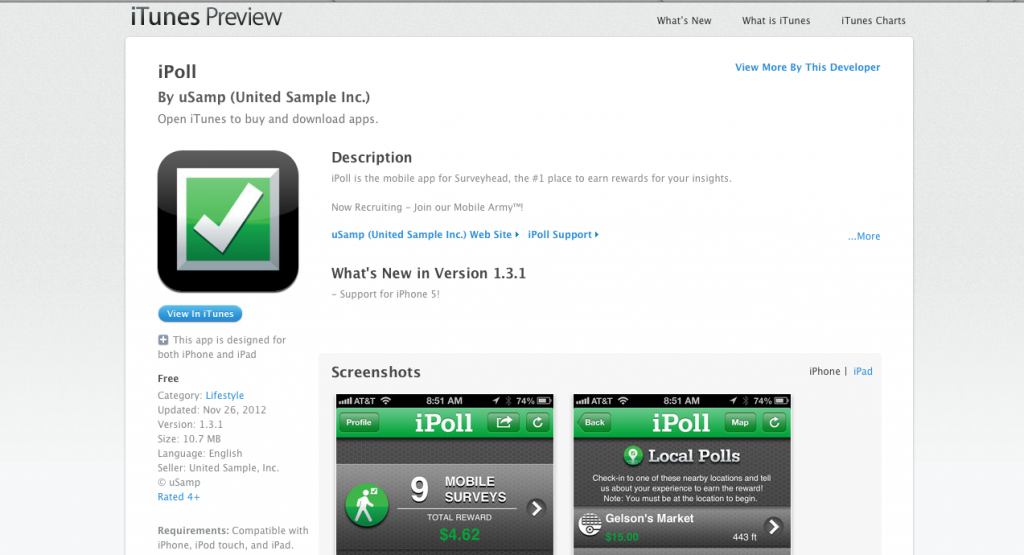 iPoll is the #1 place to earn rewards for your insights. When you download the iPoll app (which is completely free), you can turn your spare time into money into your pocket. You can earn money by giving feedback on products/services that you use everyday through short, and painless surveys. Everything at iPoll is polling questionnaires that are easy to complete and allows you to be paid! For example, take a short poll on your experience on a local restaurant you just dined at. You are able to find the location you dined at, and rate your overall experience. After you answer a few questions about food, customer service, and atmosphere,  you will get paid for your opinions.
It is very simple to use. Create a login with a Surveryhead.com account via iPhone, iPad, computer, etc. You can also create an account via fb or twitter, which is what I did. You will be asked to fill out a small demographic survey and then will be all set.  You can set up to receive alerts when new mobile surveys become readily available. There will be countless opportunities based on what location you put in. You can then set up to receive mobile surveys and local polls to start making money.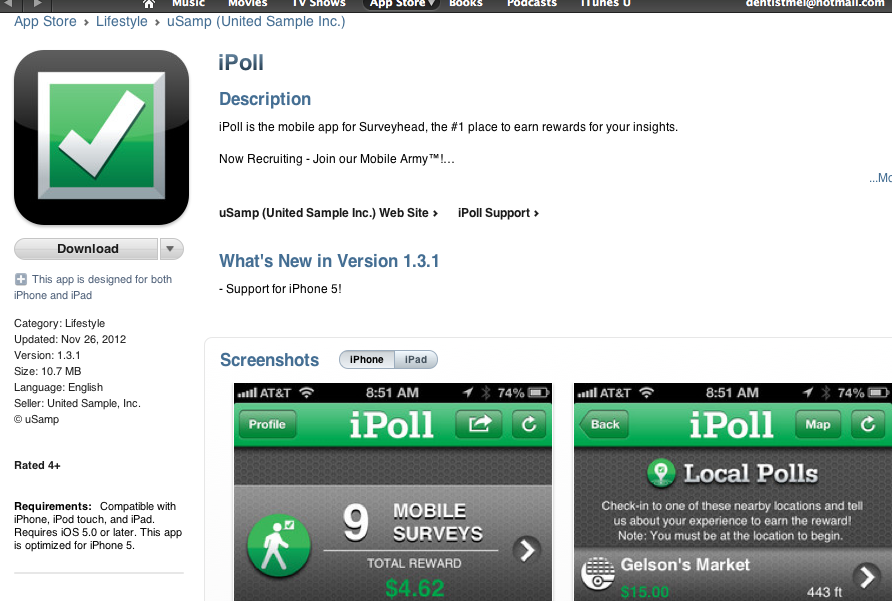 iPoll is a very neat app! It is all pretty simple stuff—like snapping a photo, taking a quick survey or scanning a barcode, that allows you to start earning money.   And the best part is iPoll users can do this by just going about their regular daily tasks—like running errands or grabbing dinner with friends.  What are you waiting for? Make sure to download iPoll today on your mobile device and start earning! The iPoll app is downloadable everywhere in the U.S. and there are multiple polls and mobile tasks available in every major market in the U.S.
You can download it in the Apple App Store or Google Play Store today.
*This is a partnered post. As always, all my opinions are my own and not swayed by outside sources.