This was my daughter, Hayley, two weeks ago. She had a terrible cold and suffered through three long days in bed.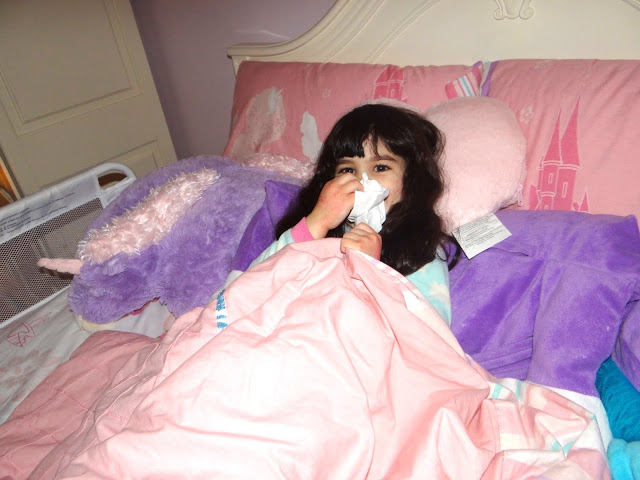 Now being her mother and attending to her needs, guess who was the next one to get sick-ME! Then the chain reaction began where my son got sick, and then ending with my husband getting a nasty cold. Trust me when I say getting a cold or flu is not fun but is usually inevitable this time of year! Thankfully for the whole family, Kleenex allows us to suffer less with their soft and non-irritating tissues. Blowing our noses with anything but Kleenex leaves rashes and sore noses. With Kleenex, my family can be comfortable using one of the softest tissues on the market. It helps going through cold/flu season slightly more bearable!
While I am no expert in treating the common cold or flu, I can offer you some tips/tricks/remedies for fighting off the cold or flu.
1. Make sure you stock up on Vitamin C everyday! My whole family takes a tablet of Vitamin C everyday and this is known to boost your immune system. Also, make sure you take a multi-vitamin to keep your essential nutrients high. Having the essential vitamins will make it be less likely you will suffer through the horrid flu season.
2. Get a flu shot! While some can't get a flu shot (me included), it is a really good option to prevent against various strands of the flu. They even have the flu mist available for babies.
3. Drink a lot of orange juice. Along the same lines of taking Vitamin C, it will provide a boost to your immune system.
4. Get lots and lots of sleep. I know as parents attending to children, this is virtually impossible to do! However, when you get enough sleep you will help fight off the cold/flu. I know for me, when I sleep at least 8 hours when sick, I feel more energized and better in the morning. It is proven that getting enough sleep is essential when you are sick.
5. If you do get the flu/cold, make sure you have a cool mist humidifier in the room. Trust me, it will make you feel better! I also find sleeping elevated helps me to breathe better.
6. Try to get some help via your partner, a babysitter, friend or family member if you do get sick. Again, I know this is not feasible for some, but it really helps to get some rest and not exert yourself too much. Give yourself time to recover from the flu/cold. Also, you are contagious when you are sick, so it is best to not be around other people too much.
7. Make sure you are constantly washing your hands or using a disinfecting agent. The last thing you want to do is spread around your germs. Also when the sickness ends, make sure you wash your sheets well to kill off all the germs.
8. Kleenex are your best friend when you are sick! Be sure to have plenty of Kleenex around at all times when you feeling sick.  Nothing is worse than not using Kleenex and getting a red nose. Kleenex will leave your nose happy!
Hope these tips can help next time you or a loved one does get sick.  I wish for you all a healthy and happy winter season!
**This cold and flu season, make the care complete with Kleenex® brand, and together we'll turn a seemingly small gesture into something bigger, to make everyone feel better.**
*"Disclosure: Compensation was provided by Kleenex via Glam Media. The opinions expressed herein are those of the author and are not indicative of the opinions or positions of Kleenex"