I am in love with both fruit and vegetable juices. On the rare occasion I get to go to a juice bar at a spa, I usually end up getting a blend of an orange-carrot flavor drink or a pineapple-apple mix. However, those drinks can really add up and be a small fortune for a 8 oz serving. That is why I was so excited to review RAAW juices to try out and see if I like them.
If you have not heard about RAAW, they are a company that works hard to create unique and innovative fruit and vegetable juice blends that taste great and provide  great alternative  fruit blends to the ones I get at the spa. RAAW Juices have recently become one of the fastest growing juice retailers in the country and they are continuing to grow each day!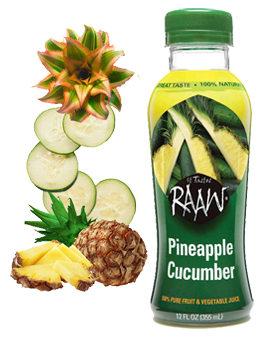 RAAW Juices are 100 percent nature,l and feature some great combinations of fruit and vegetable juices. I like to start each morning off with a RAAW Juice to kick start my day. Just this morning, I tried the RAAW Cucumber-Pineapple Blend! I love the fact that it tastes sweet but there is no added sugar, preservatives, colors, or additive flavors in the bottles of RAAW. It is only the fresh fruit and vegetables flavors in each bottle.
Here is some other information per their website about RAAW Juices:
***We flash pasteurize and cold-fill our juice products to preserve our quality. Flash pasteurization is a premium process that quickly heats our juices to a high temperature for the elimination of any possible harmful bacteria. We then immediately cool down the juices in order to retain the freshness and great taste of our products and keep them refrigerated all the way to your store.
Finally, all of our products use no genetically modified organisms (all RAAW Juices are Non-GMO verified through the independent Non-GMO Project) and they are all Gluten Free, Vegan and Kosher certified.***
RAAW Juices are sold in all 50 states now, so chances are you will see them in most supermarkets you frequent. If you don't see them in your store, request them on their website: RAAW and they will see about getting them sent. I am a big fan of buying my RAAW Juices at Whole Foods when I go shop there!
Raspberry Lemongrass, Pineapple Cucumber, Passion Fruit Wheatgrass, Raspberry Lemongrass are just a few of the RAAW Juice blends seen on the market today! Be sure to check out RAAW Juices today for a delicious juice alternative. Your taste buds will thank you! RAAW Juices can also be found on Facebook/Twitter.
*I received a case of RAAW Juices for my review. As always, all my opinions are my own and not swayed by outside sources.