SOAR WITH DORA IN THESE COLORFUL, HIGH-FLYING ADVENTURES!!
Dora the Explorer: Dora's Butterful Ball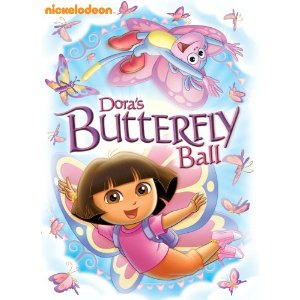 !Vamonos! Dora is back with a set of new-to-DVD episodes from the current season in Dora the Explorer: Dora's Butterfly Ball. First Dora, Boots and their new friend Mariposa head to the big Butterfuly Ball. After that, Dora and Boots go on an art-filled adventure to help their friend Daniela finish her mural. Finally, Dora needs help on a Father's Day adventure! Also included in the DVD for a limited time only is a Dora Sticker Sheet! Created by Nickelodeon Home Entertainment and distributed by Paramount Home Media Distribution, Dora the Explorer Butterfly Ball was released on DVD on February 12, 2013 for the suggested retail price of $14.99.
Dora the Explorer: Dora's Butterfly Ball Episode  Synopses:
-The Butterfly Ball- Dora, Boots, and their friend Mariposa are on their way to fly, twirl, and loop-de-loop at the Butterfly Ball! Will you help them make it there in time to get their magical wings?
!Vamos a Pintar!- Join Dora and Boots on an art filled adventure! To help their friend finsh her mural at the Art Studio, they will need your help to travel through some famous paintings!
!Feliz Dia de los Padres!- Join Dora for a Father's Day adventure! When her Papi gets blown away, Dora needs your help to catch up to Little Kite before she flies out over the ocean!
Be sure to buy Dora the Explorer-Dora's Butterfly Ball which is available now in stores and online! Hayley loves Dora and seeing her excitement watching  Dora's Butterfly Ball was incredible for me, as her mom! This DVD is a great edition to any Dora fans out there!
*We received the above product for review purposes. As always, all my opinions are my own and not swayed by outside sources.