Weekend time everyone!! This week went by so fast! Tomorrow, we are taking Zane to see Yo Gabba Gabba- he is going to flip out over excitement. I hope everyone has a fantastic weekend!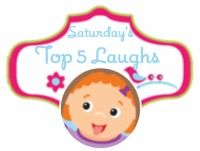 As usual, please link up any cute or funny post. Feel free to take my button or share on social media although this is not necessary. Also,  check out the other blogs as they are always so funny! Get ready to laugh!
My top five laughs:
5. Hayley and I both had the stomach flu on Monday/Tuesday. She was such a trooper because every single time she vomited, she would count and say, "Mommy..This is vomit #9." Trooper Hayley!
4. When Hayley was getting sick, Zane would look at her with a face of disgust. I could not help laugh when he did this.
3. Zane knows when he is doing something bad. He will try to push himself to the last limit before he knows he is officially in trouble. Just this past week, I told him not to climb on the toilet. He looked at me with  a side glance stare and proceeded to do it, while smiling.
2. I had my parent/teacher conferences with Zane's toddler teachers at school. They said he is a wonderful, smart boy who is thriving at school. It made me so happy to hear! Hayley's conferences are on Monday and I hope to hear the same.
1. I wrote this on FB this week, but Zane gave Hayley a kiss for the very first time this week and said, "I love you." Melted my heart!