It is the weekend- woot woot!!! I am excited because the four of us are in route to go skiing as a family for the very first time ever! I have not skied in over 4 years, so I am pretty sure at this point Hayley and I are on a level playing field. I hope you all have a fantastic weekend!
As always feel free to link up any cute or funny post. You can definitely take my button and share on social media if you like. Also, go check out the other posts who link up as they are always so funny and provide great laughs!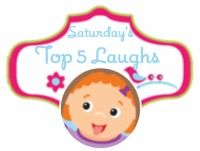 Now onto my laughs:
5.  I talked how Zane is a talking machine now. His language is just too cute. It reminds me of how Tracy from OverMom talks about Logan's language. Every sound makes me giggle.
4. Morning to night…Zane can watch Oh Dadda Dadda. He is going to flip out when we go actually see Oh Dadda Dadda- translation is Yo Gabba Gabba next week.
3. Oh I tried so hard one night to try to eliminate the pacifier. When I took it, I let him cry it out for five minutes before he said, "I ove yooo." (translation- I love you) That was it, I had to give him his pacifier back!
2. Hayley is really a big girl now. She loves to do everything herself from bathing to dressing herself. Where did my baby go?
1. Hayley absolutely dotes on Zane and gives him kisses all day. Zane in return pushes Hayley across the room. Oh the sibling love,lol:)
Now your laughs: