I have heard so much about Peapod through my years as a mom. Being a mom, I have limited time to get myself dressed, let alone go out grocery shopping, so my friends  suggested I try out the Peapod delivery service to make my life a little easier.

When I found out more about Peapod, and how they would deliver the groceries right to my door, I was so excited! I was thinking, "So I can order all my groceries from my computer… and just wait for them to be delivered." Sounded too good to be true to me!
If you are not familiar with Peapod, it is a service that allows you to place a grocery order from stores such as Ahold USA Supermarket companies including Stop and Shop and Giant Foods, and have it delivered to your doorstep. Peapod was started by Andrew and Thomas Parkinson, and has grown from a small, family-run shopping and delivery service in Illinois to America's leading Internet grocer, delivering more than 22 million orders across 24 US markets.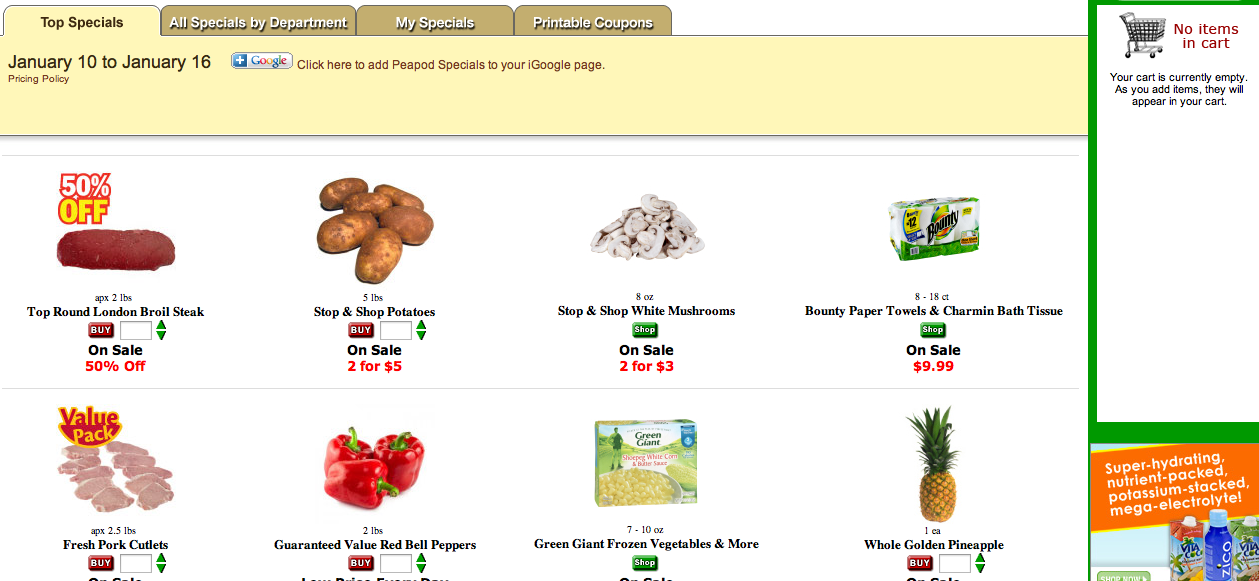 I had the chance to test out Peapod and I was thoroughly pleased. You simply go through their Peapod website to see what groceries you want to order and put them in your basket. I ordered everything from canned fruits.. to fresh fruits/vegetables..to meats..to seafood. Anything that you find in Stop and Shop and Giant Foods, you will be able to find on their online site. They also allow you to see their special deals of the week, in an easy way. Once you finish shopping, the order goes in your basket and you go to check out.
Most customers can place orders up to seven days a week for delivery as soon as next-day, or up to two weeks in advance. When they choose a day, they choose a two hour window that is convenient for them. I ordered the night before and was only given the option of a 8-10 pm delivery time the next day. Truth be told, that if I placed the order a day earlier, I would have gotten an earlier delivery time, so that is my fault. They did show up right at 10 pm though as promised.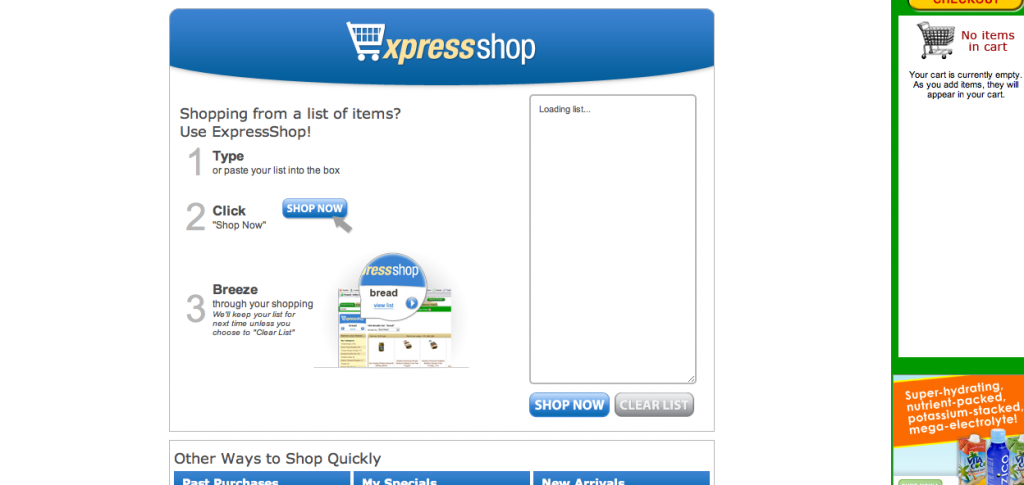 I love Peapod and plan to continue using the service for many years to come. It is an easy, effective, and interesting way to shop for groceries. It makes my life of a mom much easier because I don't need to rush out to go grocery shopping with the limited time I have.
For those in Rhode Island they also just launched a Peapod Pick-up Service at Lincoln, RI Stop and Shop. You can read all about this cool feature below:
Leading internet grocer Peapod  announced the launch of a new customer convenience, Peapod Pick-Up. Shoppers can order their groceries online through Peapod.com for easy pick-up at the Stop & Shop store located at 622 George Washington Highway in Lincoln, RI. For a limited time, Peapod Pick-up will be offered free of charge ($2.95 value) and shoppers can choose a convenient one-hour pick-up time between 8:00 AM and 8:00 PM Sunday through Friday, and 8:00 AM to 5:00 PM on Saturday.
"Peapod is delighted to launch this exciting new initiative," said Andrew Parkinson, Peapod President. "Customers can shop anywhere, anytime from a computer, tablet or smartphone and Peapod Pick-Up now provides a convenient alternative to our delivery service.  We are thrilled to open Peapod Pick-Up at the Lincoln Stop & Shop and look forward to opening additional locations in the future."
Peapod shoppers can create personal lists, read nutrition information online, sort products rapidly by price or by nutrition criteria and take advantage of thousands of weekly specials.  Stop & Shop customers can even shop from a list of items they have bought at their local store simply by entering their Stop & Shop card number online.  They can also earn Stop & Shop Gas Rewards and A+ School Rewards points on their pick-up orders.
"Stop & Shop was one of the first supermarket chains in the nation to offer home delivery when it partnered with Peapod in 1996," said Joe Kelley, president, Stop & Shop New England Division. "Peapod Pick-Up is a terrific addition to Peapod delivery and continues to support our goal of helping customers shop the way they want to shop. From using self scan registers and Scan It! in our stores, to ordering online for home delivery and now pick-up, customers have convenient choices in how they shop for groceries."
For more details about Peapod Pick-Up at the Lincoln Stop & Shop, please visit www.peapod.com.
Happy Peapod shopping!
*I received a gift card to facilitate my review. As always, all my opinions are my own and not swayed by outside sources.