Let me just tell you all,  that a few weeks ago Hayley received a Kidorable Rain Coat, Boots, and Umbrella all in a matching Dora the Explorer theme. Hayley since the time she received them, has not worn any other coat and boots. She is just too cute and goes around the house asking if she could pretend it is raining so she could wear all her gear! I have to admit, the line is incredibly cute and I have no problem with Hayley wearing her gear 24/7.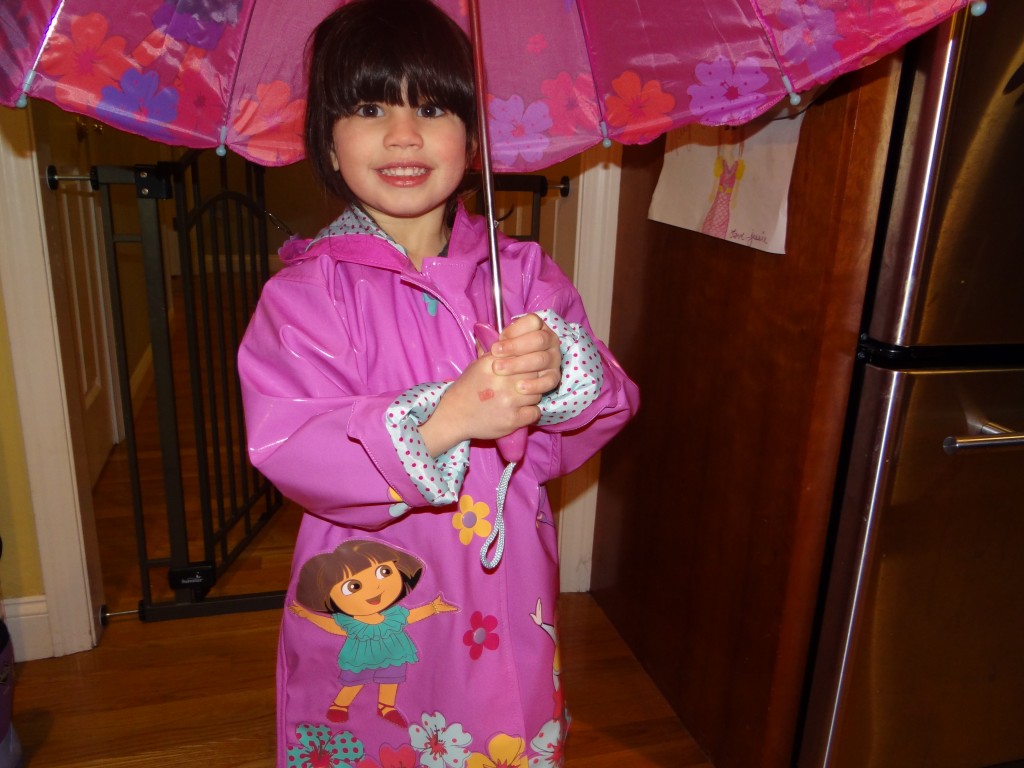 Kids all around including the top celebrity children, are all sporting Kidorable clothes and accessories on a regular basis. Just this week, I saw the ever so fashionable, Suri Cruise, with a Kidorable rain coat on in a magazine. Kidorable features a comprehensive product line that includes backpacks, bookends, hanger set, knit gloves, knit hats, knit scarves, rain coats, rain boots, towels, and umbrellas. Their main motto is to transform everyday, functional kids accessories and clothes into objects that will excite their imaginations and enrich their lives at play. Simply put their clothes are fun, and allow your kids to have excitement in their everyday life.
.
The new Kidorable Rain Boot, Rain Coat, and Umbrella line that has been introduced includes The Dora The Explorer Line, Ballerina Line, Spongebob SquarePants, and Space Hero Collection line. While we received the Dora The Explorer line, all of the sets look incredibly cute and comfortable. The Dora The Explorer line features Dora and Boots in a matching set including rain boots, umbrella, and raincoat. These are not your typical raincoat or rain boots! They are made of superior quality and are thick, to make sure your child does not get wet in a downpour! I also love the vibrant colors and how the fabric just shines in all the pieces.
If you have a Spongebob or Dora fan, you must check out the new Kidorable Dora The Explorer and Spongebob Squarepants line today! Even if your children are not into these character, they have close to a dozen different types of patterns and designs that are cute, fun, and exciting! Kidorable is there to speak to the precious spirits of childhood! Be sure to browse through their wide array of functional and beautiful Kidorable products today on their site, Kidorable! Happy Shopping!
*I received the above products for review purposes. As always, all my opinions are my own and not swayed by outside sources.