2010 was a very hard year for my family. It was the year my beloved Grandma (my husband's grandma, but she was as much my grandma too) took a nasty spill down the steps and ultimately ended up dying. She was 92 and lived a healthy/beautiful life but we knew the end was coming soon for her. While she was showing signs of physically slowing down, I never would in a million years, think she would have died the way she did.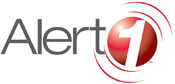 Recently, I heard a lot a medical alert system from Alert-1 that would have been so useful had I heard about it two years ago. Basically, it is a system that alerts medical professionals when emergencies arise in the older population. Had she have had this, the ambulance might have been able to reach her in time. I try not to dwell on this, but it is hard not to, knowing she might have not died in the way she did, if she was able to get help.
While ultimately she is in a happier place now and I know looking down on us, I still go back to that night, and how truly tragic it was. I try not to think how scared she was when she took that big unexpected leap down the basement stairs. I try to tell myself, that she did not feel anything and died peacefully. I truly in my mind, hope this is true!
I plan to make sure people know medical alert monitoring that is available from Alert-1. With the Alert-1 monitoring system, help is always available at the push of a button. An alarm is sounded to an emergency response center, and help is sent right away. They will stay on the line with the person until medical responders actually arrives at their house.   It enables older people to live safety and happily in the confines of their home.
While I know this might have not saved my grandma, I do know that I will certainly be looking into this option when my elders are living alone, without axillary help. I think it is a great product that could help many along their way to the older years.
We miss you everyday Grandma and love you dearly!
*This is a partnered post. As always, all my opinions are my own and not swayed by outside sources.