Here is how the conversation at Hayley's preschool went down last week. Lauren to Hayley: "Hayley, guess what, I got the new Winx dolls." Hayley to Lauren: "You are so lucky, I wish I got them. I love the Winx dolls." If you have a young child and you didn't already know, the biggest fad these days is the Winx Club dolls. They started out as a television show, went on to become a movie from Nickelodeon, and is now the hottest dolls of the season!
About the Winx Club Dolls:
Winx Club is a modern fantasy adventure series following six fashion-forward best friends (Bloom, Stella, Flora, Musa, Tecna and Aisha) who attend the finest fairy school in all the realms, Alfea College. When trouble arises, the Winx Club transforms into beautiful fairies who use their unique magical powers to fight villains and save the world from evil.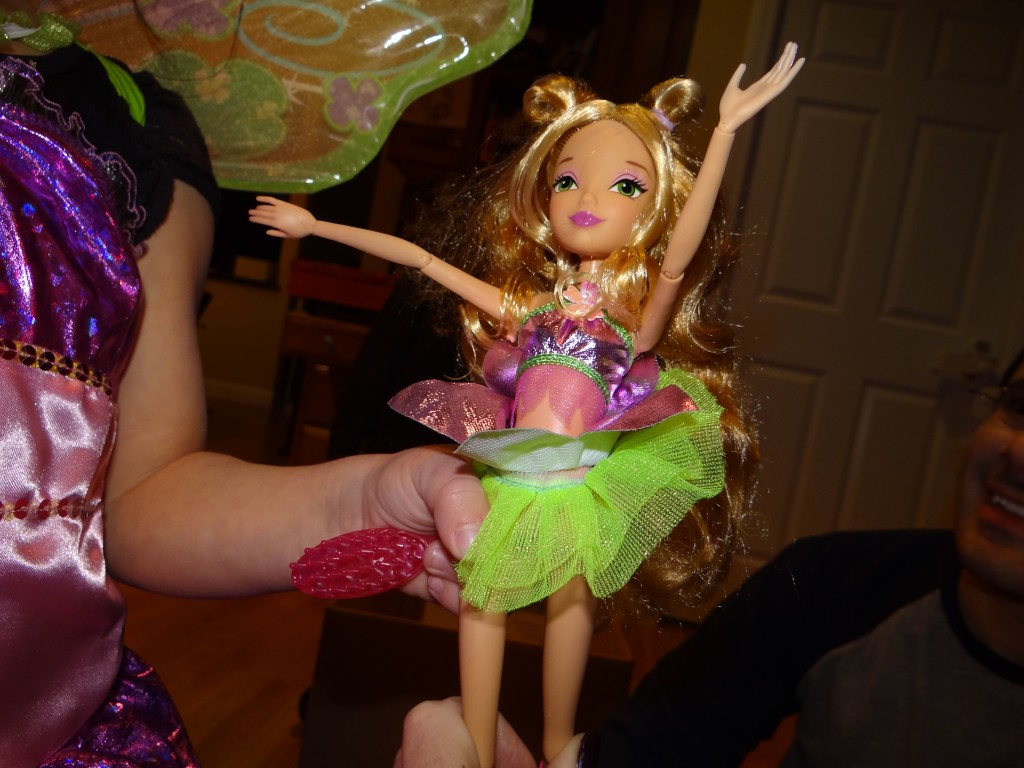 For these fashion-forward fairies, the only thing stronger than their magical fairy power is their unbreakable friendship.
Lucky for all of us, Jakks toys have come out with a complete Winx club toys product line. That is right- you can get all the dolls, plus dress up Winx costumes, accessories, and more! For every little Winx fan in your life, you will want to check out Winx doll products from Jakks toys.
We were recently sent the Winx Believix Collection Flora doll. Flora is one of the Winx dolls, but you can buy each one separately, and have the complete set. Each doll comes with a pair of wings, fashion outfit, shoes, hairbrush, and membership card. When Hayley opened up her Winx doll, she thought it was just magical. She loved having the membership card too, as she felt like she was officially part of the Winx dolls. These dolls are beautiful and mimic the Winx girls you see on the television show and movies. Each Winx doll retails for $20.00 on Amazon. They are also sold at main toy retailers including Toys R' Us.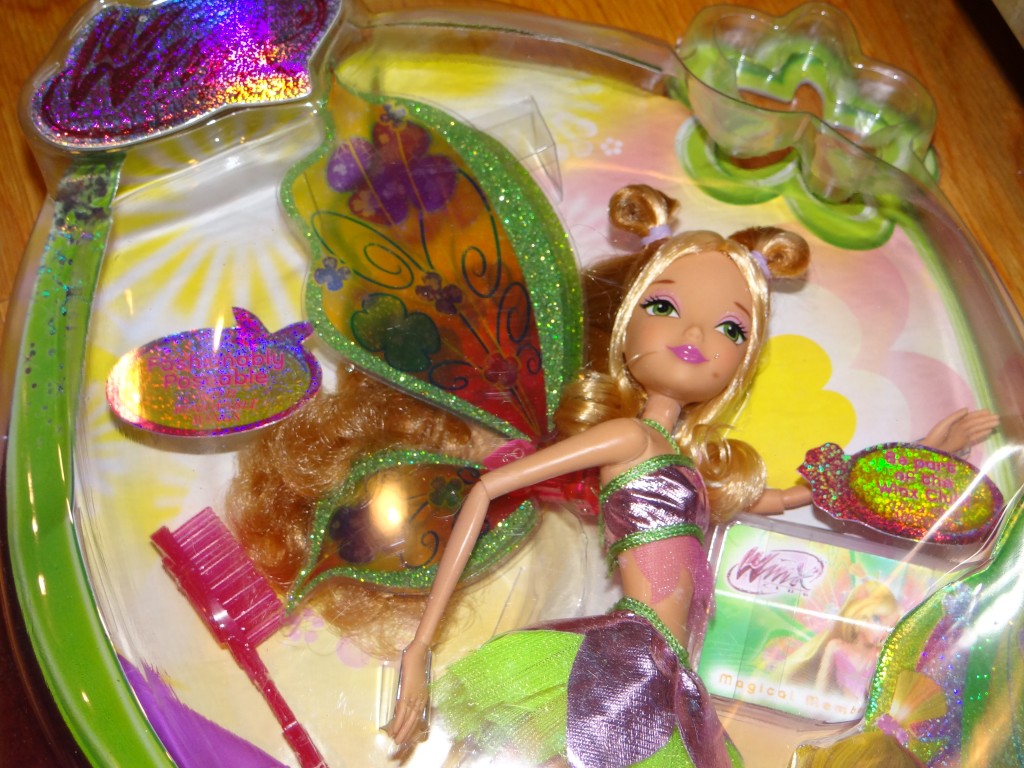 Along with the Flora doll, Hayley received the Winx Club Hair Styling Set for her dolls. It is a kit that includes 4 hair extensions, 6 hair ties, 6 hair spins, 1 scrunch, 1 headband, 1 barrette, and 1 brush. Hayley has a blast using the hair extensions and products on Flora's hair. Since Flora is the Fairy of Nature, it is only natural that she gets her powers and energy from flowers, pants, grass, and trees.
Lastly, Hayley received her own Flora outfit with magical sparkling wings. Once she received her Flora princess outfit and magical wings, she looked just like Flora! It was truly cute! She then took her Flora doll, and went around saying, "Look Flora…Now we look exactly alike." She says next year she is going to be Flora for Halloween, but this year, she will play dress up everyday with her Flora outfit. The Flora outfit along with other Winx club outfits can be found on Amazon for around $35.00 and the sparkling wings for $15. They are also found at major toy retailers.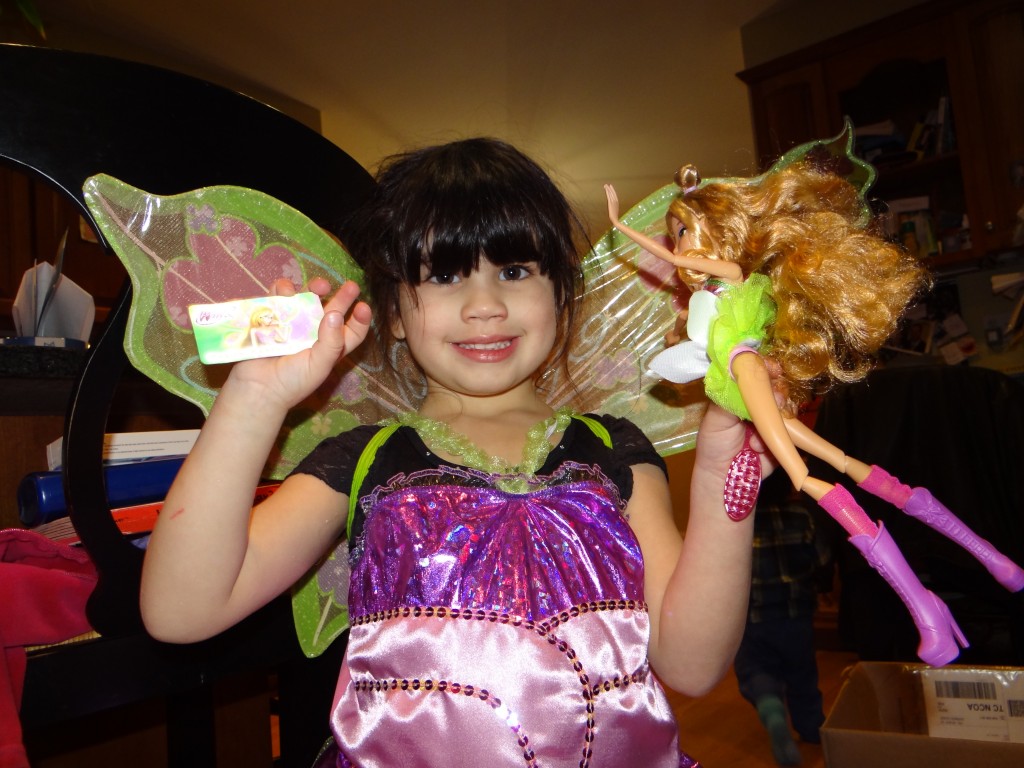 This holiday season, be sure to check out the Winx dolls from Jakks toys. They would make perfect gifts for the little Winx lover in your life.
Win it: One winner will win the Winx Club Flora Doll. This giveaway is run via rafflecopter so click continue reading to see the actual giveaway. The only mandatory entry is to tell me which Winx doll is your child's favorite in the comment section proceeding the post (Bloom, Stella, Flora, Musa, Tecna and Aisha). While the other entries are optional, I highly recommend filling them out to increase your chances of winning. US only. Good luck!
a Rafflecopter giveaway

*I received the above products for review purposes. As always, all my opinions are my own and not swayed by outside sources.