I have always been a huge fan of The World Almanac. This year, they released the newest version titled The World Almanac and Book of Facts 2013 and it sure to please basically everyone on your holiday list!
From the presidential election to the London Summer Olympics, this year was marked by many momentous events. The World Almanac and Book of Facts 2013 offers a comprehensive recap, chronicling 2012's most notable stories, people, and places. Available in print and as an eBook for all platforms, this latest edition of America's best-selling reference book packs tons of fascinating facts, statistics, and trivia unavailable to the public elsewhere.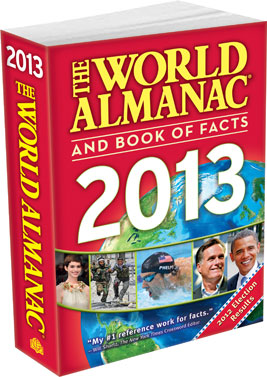 Some of the 2012's most prominent faces grace this years cover. Opposing presidential candidates Barack Obama and Mitt Romney appear side by side. Joining them are award winning actress Anne Hathaway, star of the blockbuster The Dark Knight Rises and pro swimmer Michael Phelps, who became the most decorated Olympian of all time this year.
The World Almanac and Book of Facts 2013 boasts brand-new features including 2012 Election Results- a look at the entire election from the primaries to local and national presidential voting outcomes- and College Football, which introduces the new NCAA play-off system as well as The World Almanac editors' picks for the greatest college football games. It also features the ever so popular Year in Pictures, Top News Topics, Offbeat News Stories, and Time Capsule, which features the most memorable, and outrageous moments of 2012.
This is a fantastic stocking stuffer and is available at WorldAlmanac.com for $12.99. Be sure to pick up your copy today! I can't put this book down since I got it. I am fascinated by the celebrity section and the medical section but truly every section of the book is enticing! It is great for those who want a cumulative review of 2012! A great tribute to a marvelous year!
*I received the above book for review purposes. As always, all my opinions are my own and not swayed by outside sources.