A few months back, I talked about my love of Stokke. I reviewed the Stokke Tripp Trapps which I love and use daily in my household. Recently, Stokke came out with an ingenious idea- a traveling wooden booster seat for you take with you wherever you go. This wonderful product is called the Stokke Handysitt Seat.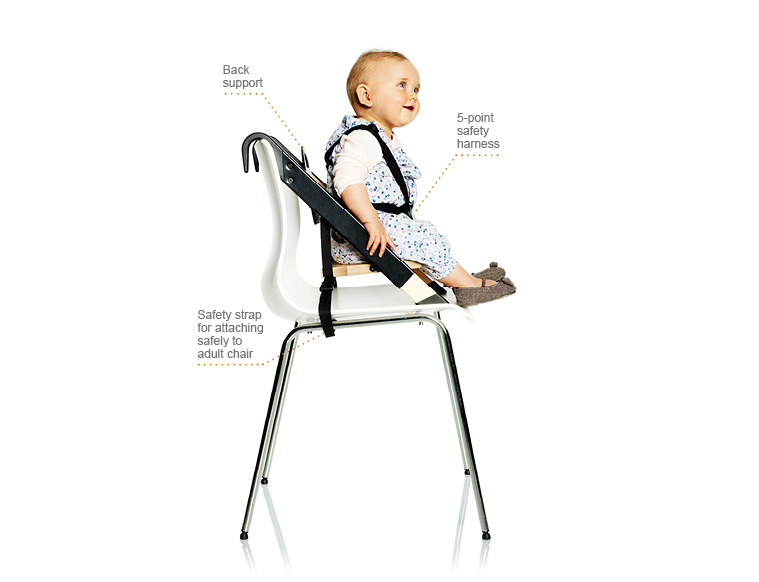 The Stokke Handysitt is similar to the many wonderful features of the Tripp Trapp, but instead of having  a stand-along high chair, the Handysitt is similar to a booster seat product, in that you can take it with you wherever you go. The Stokke Handysitt can be used in two ways- one on top of a dining room chair. There is a strap that connect from the Handysitt to the back of a chair for adequate support. You can bring the Handysitt to the dining room table by attaching it directly to the chair. We generally keep our Handysitt attached to a chair because Zane really loves the idea of sitting in a regular chair, like his big sister. By using the Handysitt, he now has the option to sit in a "big boy" chair.
Another way, the Stokke Handysitt can be used is a free standing hair. It has little legs, so you can freely place the Stokke Handysitt on the floor without using any chair with it. In other words, it can be used as a freestanding chair. Because this "booster seat" has legs, you can use it for this purpose. Some times, Zane likes to just sit in his Handysitt and watch television. I love the fact that you can use the Handysitt in multiple ways.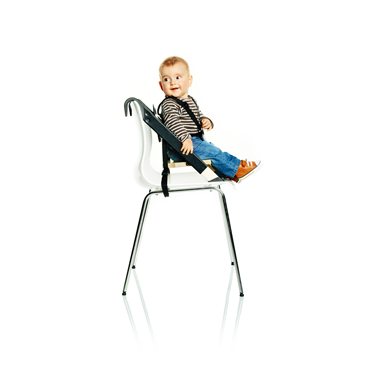 The Stokke Handysitt is readily portable and easy to fold up. You can bring it with you to restaurants, to friends houses, or even to grandma's house. Once you are done using it, simply place it in the traveling bag, and you are ready to go home. It is so easy to use. It also cleans very well! I simply use water and a towel, with alittle soap if it is a big mess, and voila- all clean!
I am a huge fan of the Stokke Handysitt as it is a wonderful "booster seat, as well as stand alone chair. It is made of fantastic an beautiful wood, that will not tarnish over time. It is available for $100 on Amazon. If you are looking for a great child seat (it fits ages 7 months-5 years of age), the Stokke Handysitt is for you.
Giveaway: One winner will receive the Stokke Handysitt. For this giveaway, please follow the directions below.
Mandatory entry: Please visit Stokke.com and let me know which other product look great to you- (+1 entry)
Optional entries:
Follow Stokke on Facebook (+2 entries)
Follow Stokke on Twitter (+2 entries)
Follow Mommyhood Chronicles on Facebook (+2 entries)
Follow Mommyhood Chronicles on Twitter (+2 entries)
Follow Mommyhood Chronicles on Instagram (+2 entries)
Follow Mommyhood Chronicles on Email (+2 entries)- email subscription button above.
Tweet about this giveaway mentioning @dentistmel @StokkeBaby and the Stokke HandySitt kids seat- this can be done daily but please leave links daily for verification (+3 entries)
Please note if a comment says, a certain number next to it- that is how many comments should be in the comment section proceeding the post. Giveaway ends 1/7- US and Canada. Good luck!
*I received the above product for review purposes. As always, all my opinions are my own and not swayed by outside sources.