My daughter is a budding little artist who loves to spend her days coloring and such. A few days back, my daughter who is 4, turned to me and said, "Mommy, since I don't have money, I am going to "buy" you a special drawing." When I asked her what she meant, she went on to clarify that she is going to make, not "buy", me a special picture for the holidays that she was going to make with her crayons and stamps. I told her that was the most wonderful idea in the whole world and told her that her teachers would probably like their own personalized art as well, so they could hang it in school too. After our conversation, I practically had tears in my eyes because it shows to me, much more than any amount of money, how much she truly loves me. Daddy helped her with the art but I think it came out perfect!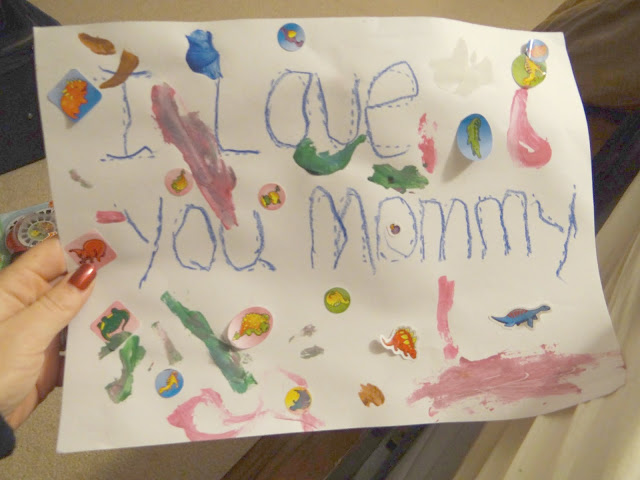 After our conversation, it made me think about me and my attitude towards gifts. Quite honestly my mentality is I don't care how much it costs, as long as thought was put into the gift. Sure, a piece of jewelry is always nice, but you know what- a personalized picture is even nicer in my eyes, because it is something I will love and cherish through the years. I am a big believer in the motto, "It's the thought that counts." In my eyes, small gestures or thoughtful words mean so much more to me than a pricey gift.
I am not the only believer in the motto, "It's the thought that counts." My husband a few years back for mothers day gave me a collage that had over 50 pictures of Hayley and Zane. I would show the picture here of it but it is at my work hanging up, so I can just smile everyday when I see it. When he showed it to me on Mothers Day, I was balling! Truly the thought and care he put into it was amazing!
In the midst of this crazy holiday season, I challenge you and your children to put a smile on someone's by giving away a Kleenex Brand Care Pack. I told you all about the Kleenex Brand Care Packs in the last few months through the Kleenex's Softness Worth Sharing Initiative. To recap, a small gesture of giving some one a Kleenex Bundle Package, can show true caring. You simply buy a specialty marked bundle or boxes of Kleenex brand tissue. On the inside of the Kleenex box, you will find a code to redeem online at Kleenex.com. Once you redeem it, you can then send a special Kleenex Brand Care Package for a friend, family member, or even a stranger to put a smile on their face this holiday season.
We have fulfilled our Kleenex's Softness Worth Sharing challenge and have given away four Kleenex Brand Care Packages over the last four months. For the last one, I decided to let Hayley tell me who we should give the Kleenex Brand Care Package too. She thought long and hard but decided to give it to our babysitter who Hayley loves and cares about. She noticed that our babysitter had a runny nose, and thought it would be a perfect time to show her how much she really loves her. She gave her the Kleenex Care Package which included many goodies including the worlds softest tissue, Kleenex. I was so proud of Hayley for showing her much she really cares through this simple gift. She really understand the true value of helping others through small gestures. Again, it put tears in my eyes. I am glad I keep Kleenex all over the house!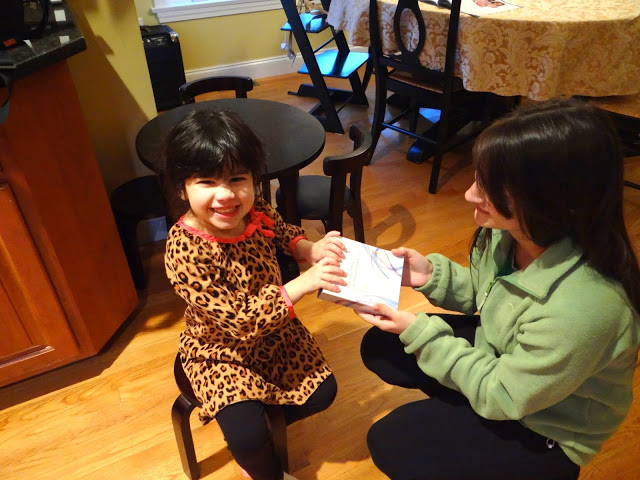 Kleenex brand is giving consumers the opportunity show how much they care by helping give to others with a Kleenex Brand Care Pack.  Be sure to send your package today and show the real meaning of the holiday season! You can follow along with Kleenex on Facebook to learn more about spreading holiday cheer with the Kleenex Care Packages!
* I wrote this review while participating in an ambassador program by Mom Central Consulting on behalf of the Kleenex brand and received product samples and a promotional item to thank me for taking the time to participate.