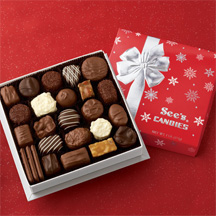 Whenever I visit California, I make sure I make a pit stop to pick up See's candies. To say that there delicious, is a complete understatement! The chocolates are divine! I actually told my husband a few years ago that I wish See's would come to Rhode Island.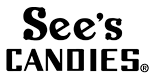 Lucky for us, they now opened a temporary store in the Providence Place Mall. I have already been there at least three times and plan to get my complete See's candies fix until it closes!
Here is some information about the Rhode Island store location for See's candies:
MAKE IT A CHOCOLATE-COVERED HOLIDAY WITH SEE'S CANDIES ! A Holiday Tradition for More Than 90 Years Is Now Available At A Gift Center In Providence Area WHO:       Since 1921, See's Candies has been one of America's favorite candy makers. A tradition in the West, See's has consistently maintained the timeless virtues of quality, caring and friendly service. Made in America, using no added preservatives and only the freshest, highest quality ingredients available, each piece of delicious See's candy is sure to delight this holiday season.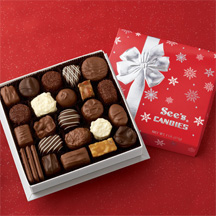 WHAT:     This year, See's Candies is opening a location in the Providence area, where candy-lovers can purchase an assortment of delicious selections for the holiday season, made with the finest ingredients, yet available at affordable prices. Selections include:
Assorted Chocolates – A classic creation from See's. Featuring a mix of customer favorites like Chocolate Butter, Caramel, Bordeaux, nut clusters, nougats and Scotchmallow. ($18.20 for 1 lb; $36.40 for 2 lbs) ·      
   Nuts & Chews – A variety of sensational milk and dark chocolates filled with See's special caramel and nougat as well as top-quality almonds, peanuts and walnuts. ($18.20 for 1 lb; $36.40 for 2 lbs) ·      
   Truffles – The most divine chocolate See's has to offer, each Truffle features a richly flavored center with a delicate chocolate coating. Flavors include Dark Chocolate Chip, Café au Lait, Hazelnut, Malt, Key Lime, Raspberry and Lemon, offered in a beautiful gold box. ($10.35 for a half-pound; $20.70 for 1 lb) ·         Toffee-ettes – A bite-sized version of See's famous Victoria Toffee, everyone loves this rich combination of crunchy butter toffee and California-grown almonds, covered in creamy milk chocolate then rolled in toasted almonds. ($18.20 for 1 lb.) ·        
 Old-Fashioned Fudge Assortment – Made only for the holidays in a festive sampler box, using Mary See's original recipe, See's uses premium English walnuts and pecans, pure butter, heavy cream and sugar to create the richest and creamiest fudge in three flavors – Vanilla Walnut, Chocolate Walnut and Bordeaux. ($18.80 for 1 lb) ·     
    Gourmet Lollypops – Candy fanciers of all ages love these unique square Lollypops made from heavy cream, butter and flavors of real vanilla, Colombian coffee, smooth chocolate and rich butterscotch. Assorted flavors include Vanilla, Butterscotch, Chocolate and Café Latté. ($8.00 for 12 Lollypops; $17.65 for 30 Lollypops) ·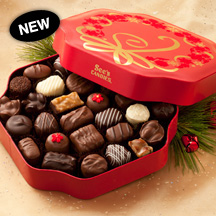 NEW! Holiday Fancy – Festively packaged for the holidays, this assortment features a popular selection of See's finest milk, dark and white chocolates. ($20.90 for 1 lb) Stocking Stuffers! ·         Polar Bear Box – Children will love the sweet bear box filled with kid-friendly candy like Sugar Sticks, Milk Chocolate Foil Balls, Lollypops and Chocolate Santas. ($6.95 for 7.5 oz) ·         Winter Wonderland Box – This special box is filled with chocolate – like Scotchmallows, Butterscotch Squares, Milk Chocolate Foil Balls and Molasses Chips. ($7.15 for 4.8 oz) ·         Snowman Candy Bar Gift Pack – Comes with four 1.5 oz candy bars that can be spilt into multiple stocking stuffers or given as one gift. Includes two Milk Chocolate, one Milk Chocolate with Toffee Nuggets and one Dark Chocolate with Almonds. ($6.80 for 4 – 1.5 oz bars)
WHEN:                 November 8 – December 26, 2012
WHERE:              Providence Place, Providence
While I am excited that See's is open in Providence, Rhode Island, if you do not live here, you still have ample time to order See's candies online at their store.  They have a wide assortment of candies and chocolates for Christmas gifts, Hanukkah gifts, Stocking Stuffers, Hostess Gifts, and Baby Gifts! Be sure to check out See's candies on their website today! It is purely delicious!
Win it: One winner will recieve a $25 gift card that can be used to purchase See's candies. For this giveaway, simply leave me a comment and tell me which of the following Christmas gifts you woulk use the gift card for if you won in the comment section proceeding this post. Giveaway ends 12-21 and winner is choosen via random.org. Good luck!
*I received See's candies for my review. As always, all my opinions are my own and not swayed by outside sources.