This week has been tough in our household because Zane had croup, which kept our whole family up for three nights. He is doing better now but it was rough, to say the least! That is why I can't wait to read your laughs- they always put a smile on my face!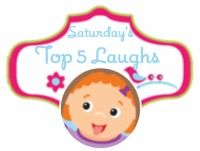 Please link up any cute, funny, or top five laugh post. Feel free to take my button, or share on social media if you like, although as usual this is not mandatory. Go ahead and visit the other blogs who link up as they are always funny!
Now onto my top five laughs:
5. Zane is obsessed with babies. My girlfriend is pregnant and she was over the other day and told Zane, "Look Zane, there is a baby in the belly." When she left, he kept looking at me thinking there was a baby in my belly. He kept pointing to my belly and saying "Baby." No Zane- trust me, there is no baby in there.
4. This is just a cute one. Every night we have been lighting the Chanukah candles. We have been trying to get Hayley to recite the prayer. Hebrew is definitely a difficult language. Her way of saying the words is just too funny! She tries so hard but it comes out totally wrong on the hard parts. She is really trying though!
3. And we are back to playing the pacifier game. Zane the other night, kept throwing his pacifier out of his crib. I would go in and he would say, "Oh no.. and point to the floor." I would go back in, put the pacifier back in the crib, and two seconds later repeat. He thought he was playing a game.
2. Zane has been really bad with biting. We have been trying to reprimand him (he only bites his sister thankfully). One time he tried to bite her, and Hayley says, "Zane..bad boy..Go into time out now!" She was so stern with him. It was adorable!
1. Zane was sick this week and ended up vomiting a few times. Every time he did it, he projectile vomited  on me and then guess what he did. He laughed hysterically like it was funny that he puked all over me. Not funny Zane..Not funny!
Now your laughs: