Last holiday season, my nephews told me about the hottest new toy on the market: HEXBUGS. I really did not know too much about HEXBUGS, but found out quickly when they started to bring them over to my house to play. This year, Hayley received her first HEXBUG set and she is really loving it! She received the HEXBUG Warriors Battling Robots and it is a really fun toy!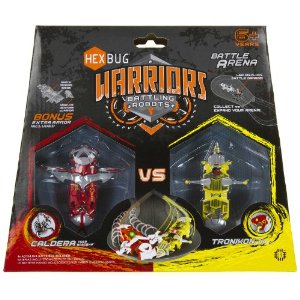 In the HEXBUG Warriors Battling Robots, it comes with two battery operated robots, VIRIDIA and TRONIKON, who are all ready to go into battle. They have intelligent battle sensors inside that register damage as the fight continues on the battlefield. Each of the HEXBUGS Robots, comes with a shock sensor, snap -on weapons and armor, and bonus extra armor. They are fully protected. It also has an LED light that comes on in the battle arena, when damage is noted.
The HEXBUGS Robots can be expanded and collected, to add more fun to the arena. Each of the HEXBUG Warriors comes with configurable armor and weapons that when collected with other Warriors can be changed into hundreds of different combinations. There are over twenty Warriors that can be purchased to make the possibilities endless.
There are two modes of play with the HEXBUG Warriors Battling Robots: the Training Mode and the Battle Mode. You are able to customize your warrior for battle and they have kinetic weapons that really do move. It is very neat! It looks exactly like a smaller version of robotic play.  When Hayley's cousins come over and they play with these, they usually play in Battle Mode! You know boys…
The pieces are very easy to connect and one can build a full battle arena. You can then connect with other WARRIORS playlets to create your won mega stadium. HEXBUG Warriors Battling Robots would make great toys for boys or girls this holiday season! They would also make great stocking stuffers. You can purchase the HEXBUG Warriors Battling Robots on the HEXBUG site for $19.99, or on Amazon.
*I received the above product for review purposes. As always, all my opinions are my own and not swayed by outside sources.