Handbag designer and mom Tangee Pritchett created the Couture Clip luxe binkie holder. Her idea was to create a binkie holder that was simple, fun, fashionable, and useful! Tangee loved the idea of using cashmere in her handbags, and wanted to create adorable binkie holder using cashmere.
Cashmere has always been her favorite fabric and nothing says luxe baby better than cashmere," says Pritchett. The designer also incorporate supple faux suede used over the years in her handbag collections. Organic pointelle cotton and upcycled cashmere are also found in the collection. Each Couture Clip™ luxe binkie holder has an organic herringbone cotton loop to fit any binkie and a lead free clasp. Couture Clip™ luxe toy holder designed in the same luxe materials and lead free clasp soon followed.
Couture Clip™ luxe binkie holder donates a portion of sales to First Candle, a national nonprofit health organization working to increase stillbirth awareness, a cause very dear to my heart. In 2004 Tangee's pregnancy ended in stillbirth. Tangee knew she wanted to design a product to help create awareness.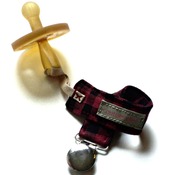 Tangee has a wide select of products including the luxe binkie holder, luxe toy holder, luxe binkie and toy holder gift set, luxe bow, and the luxe gift pouch. We were sent the luxe binkie holder and luxe toy holder. The luxe binkie holder holds most binkies and are totally adorable. Zane still takes a binkie so we tested it out, and it worked out perfectly! They have so many adorable colors and are the most softest binkie holders. They clip on wonderfully and are easy to use.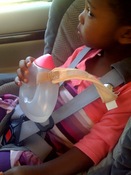 The Luxe Toy holder is a great addition to  babies accessories by creating a way to attach toys and sippy cups to the holder. We use it in the car to attach Zane's sippy to, so he has it readily available. It would also be great to attach small toys such as Sophie the Giraffe and teething toys.
Each Couture Clip-Luxe Binkie Holder and Toy Holder retails for $30. They are a truly wonderful addition to add in our household if you have a baby. There are many celebrities that are fans of the Couture Clip holders such as Jennifer Garner, Reese Witherspoon, Roselyn Sanchez, Kourtney Kardashian, and more! Be sure to check out Couture Clip today!
*I received the products above for review purposes. As always, all my opinions are my own and not swayed by outside sources.