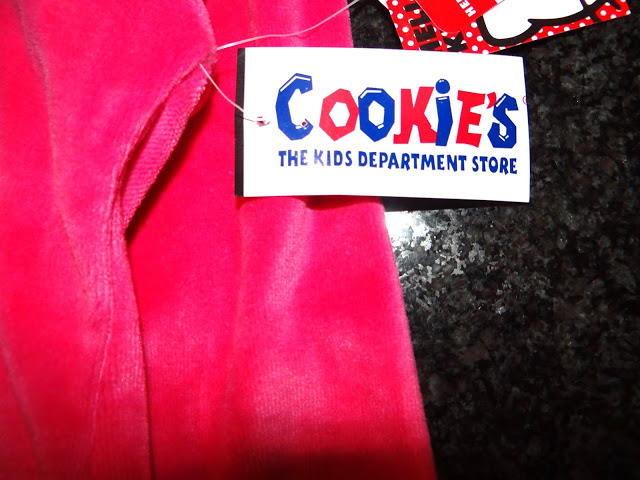 It is officially the start of the winter season. We had our first winter snowstorm last week and that cued me in that it was time to put away the kids summer/light fall clothes and transition their closet to winter clothes. While Zane's closet was relatively easy to do since he has stayed the same size in the past few months, Hayley was a completely different story. Hayley went through a major growth spurt this year, and went up 2 full sizes in clothes. As a result, I basically have to buy her a whole new winter wardrobe. When I look for good winter  fashion clothes, I do look at name brands but even more so I look at the pricing of the clothes. I want cute clothing but I also don't want clothing that she could only wear one time and it rips- I am sure you are all familiar with the one time wear clothing. Thankfully, I got introduced to a great site called CookiesKids.com where I can find a huge selection of  adorable kids fashion clothing at affordable prices that also will last through the years.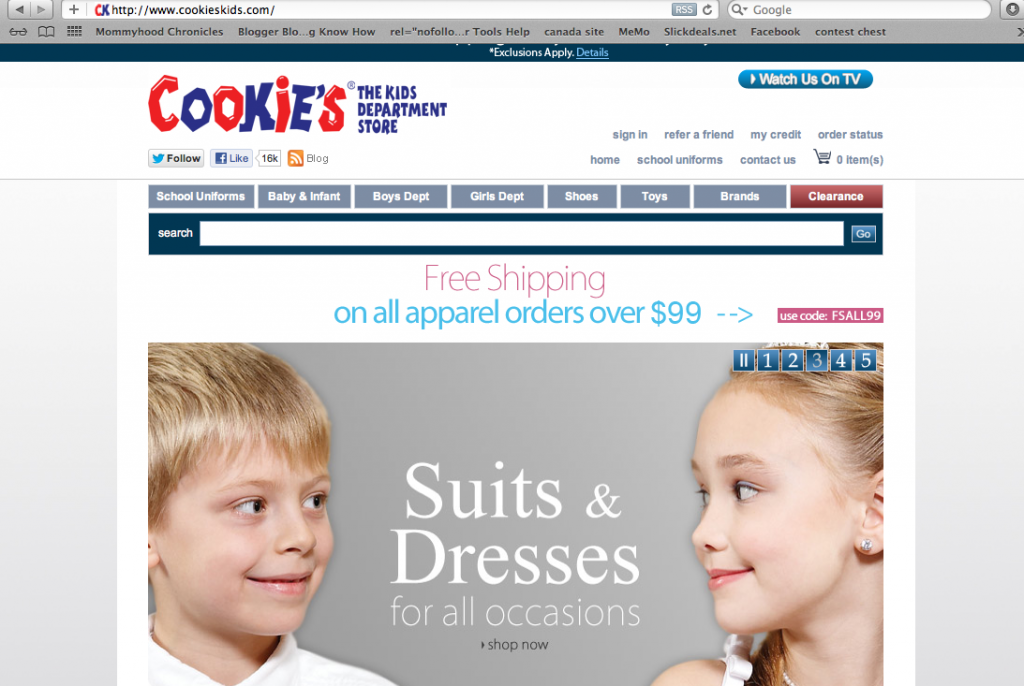 If you have not checked out CookiesKids.com, now is a good time to go on your computer and do some shopping. I recently signed up to be a member at CookiesKids.com, and now I have my mom signed up as she wants to buy a lot of the kids clothes from here for the winter season. Just to give you an example of how it works, they have many subtitles on the top to search for including school uniforms, baby/infant, boys department, girls department, shoes, toys, brands, and clearance clothes. I instantly saw Girls department and knew I needed to see what they had for Hayley.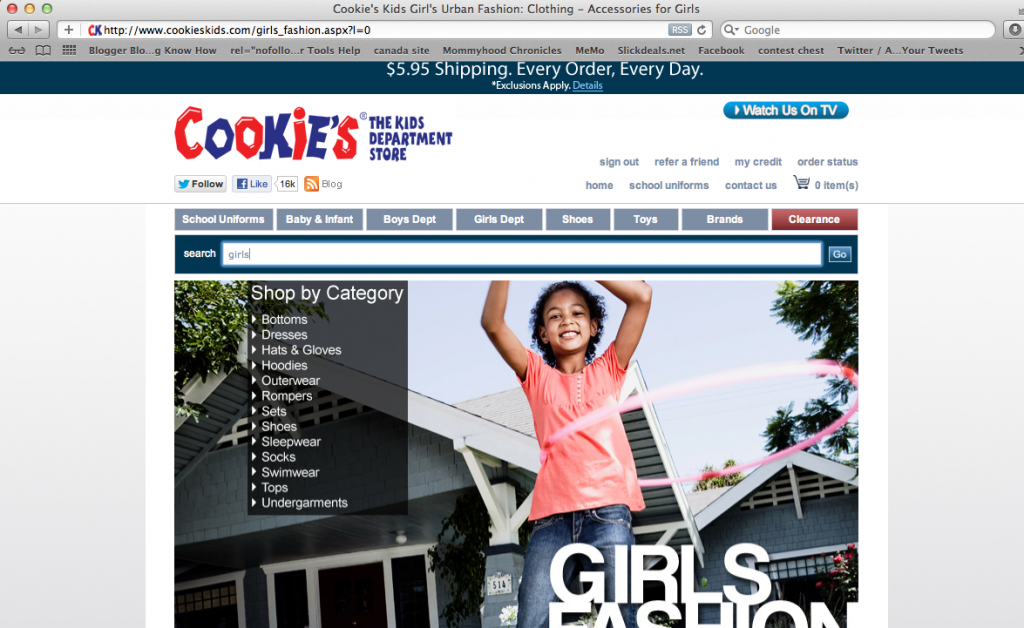 I was on the mission to shop at CookiesKids.com for winter clothes. Hayley was sitting next to me as I was searching the site and she kept saying, "Mom, we need this…Mom, please get this…Mom, how about this". Of course, she wanted everything but all their clothes were so stinkin' cute! I did a quick search of their winter hats, gloves, and scarves. They had a plethora of items for the winter in terms of accessories.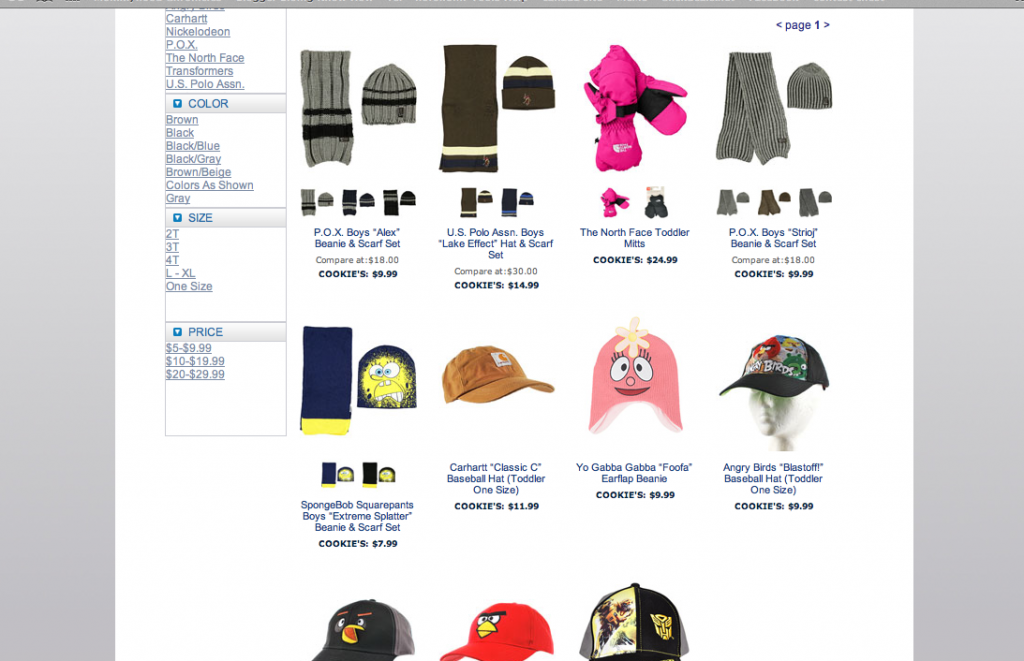 Then we went on to peruse the pants sets. I could not believe my eyes when I saw how many winter sweatsuit sets they had and how affordable the sets were.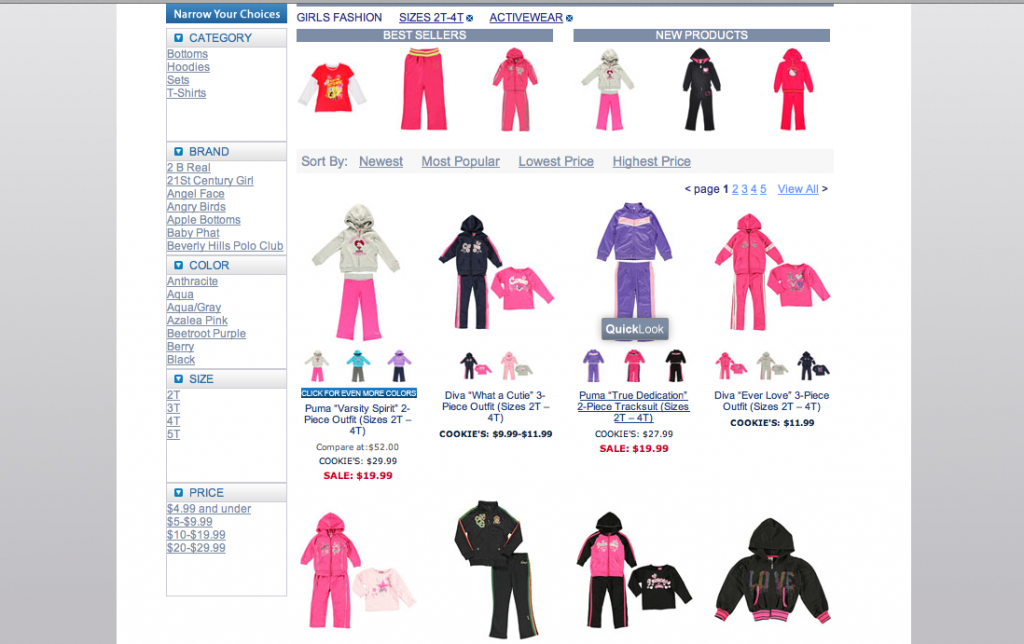 Of course, Hayley spotted the Hello Kitty "Velour Wink" 2 piece set and she just had to get it! For $19.99, I truly don't think you could beat that price. It also looked heavy for the winter with a hoodie on the top in case of snow. I knew this would make a perfect winter set!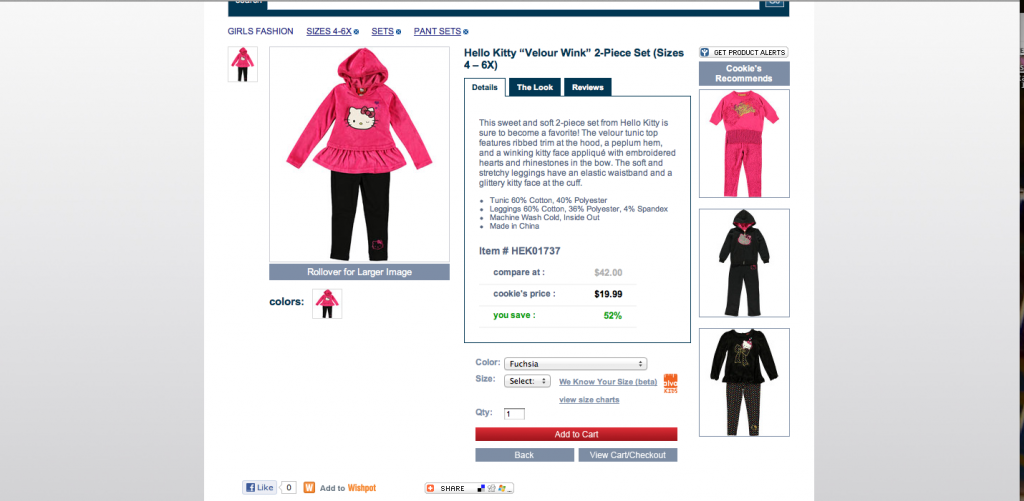 Next, I did some searching for a beautiful holiday dress for Hayley. I wanted something that was special for the winter holiday season and I think I found just the dress. It is called the Sugar Plum "Olivia" Dress which would make the most beautiful dress for the winter! I will leave you keep reading on to see how gorgeous Hayley looks in it, but I do want to make note that if you are concerned with what size to get, don't be! CookiesKids.com has a special Alva Kids icon by each size option for the clothes. I clicked on the icon and was able to put in some information about Hayley's weight, height, birthday and from there Cookie's Kids, told me what size I should order for Hayley. They were spot on as they told us she was a size 4 and Hayley fit perfectly in the clothes we got from CookiesKids.com in a size 4! What a great idea to include on a site to make sure the clothes you are getting will actually fit your kids.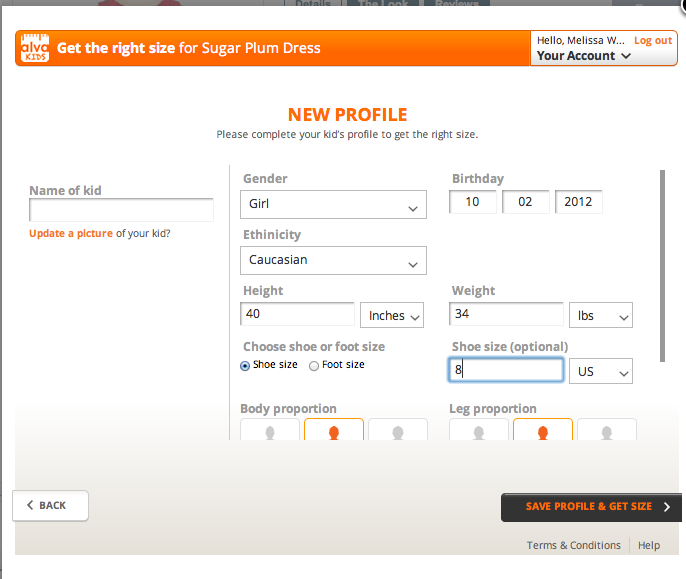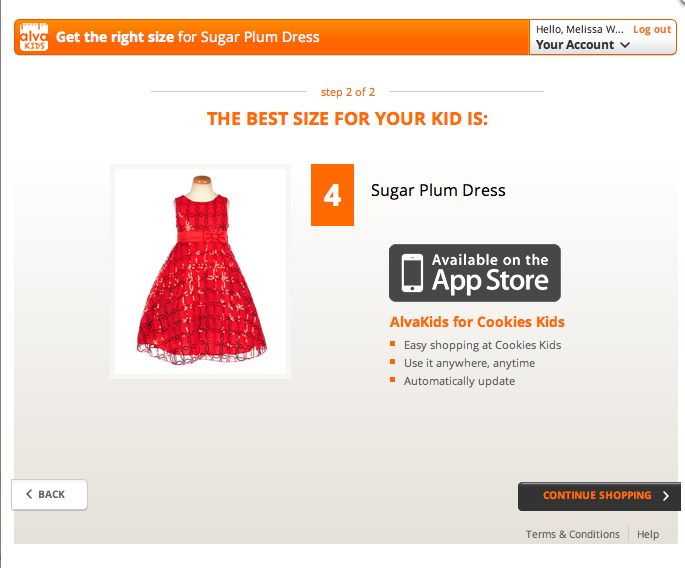 After I was done shopping for Hayley's winter clothes, I went on to look at the selection they have for boys for winter clothes. My mom will be buying a winter selection of CookiesKids.com clothes for Zane for the holidays. I truly can't wait!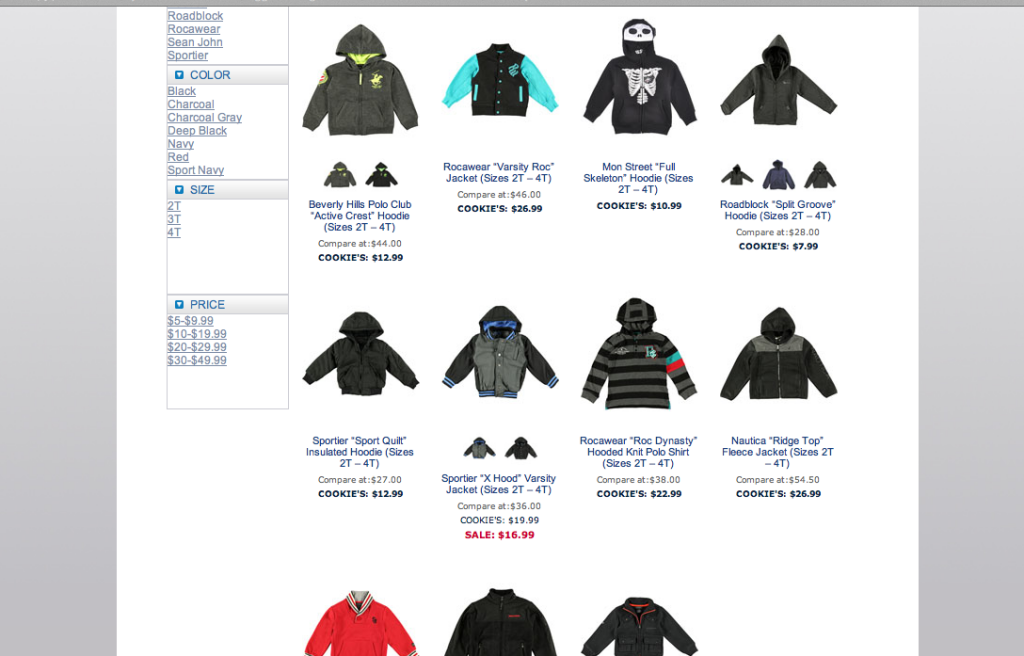 Before I show you how Hayley looks in her winter clothes, I wanted to tell you some more additional information about the company:
***In 1972, a young man named Cookie and his brother Marvin went into business together. They rented a 1600 square foot store in Jamaica, Queens, fixed it up, bought inventory and Summer and Fall, and opened a day after Thanksgiving with a full stock of holiday toys. The toys were a success and they put the extra money toward buying children's clothing for the next season. When that did well, they bought more clothing. The business was on it's way.
As the brothers Cookie, Marvin and Sonny, who had come in as a third partner in the business, began to open new stores in new locations, inventory expanded. Besides the latest fashions, our customers wanted shoes, toys, backpacks and accessories and we were prepared to deliver.
By the late 1990's there were six superstores throughout the NYC area, and though they previously had different names, by that time they were all named Cookie's Kids. Also in the late '90s came an important addition to Cookie's Kids' inventory: school uniforms. It was the steady success in uniform sales that paved the way for founding CookiesKids.com in 2007, which originally sold uniforms and soon after the entire Cookie's Kids Inventory.****
A few days later, we got our #CookiesKids clothes! They fit perfectly and were GORGEOUS! I just truly can't believe the prices for the quality of clothes- it can't be beat!!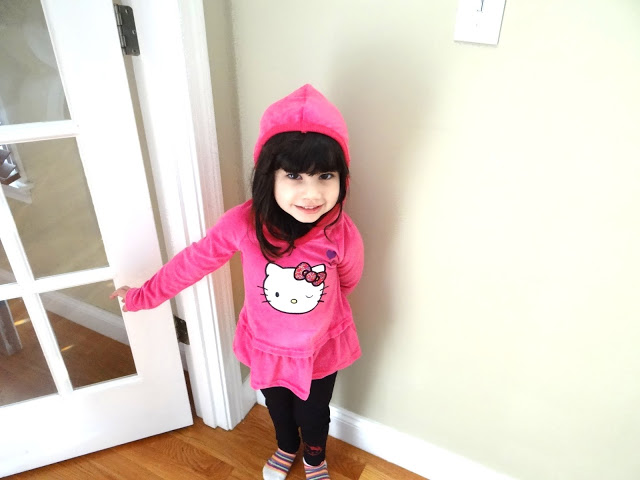 To see my full shopping story, click here: google plus. CookiesKids is also on Facebook and Twitter so be sure to follow along.
If you are interested in purchasing any clothes from Cookie's Kids this winter season, click here: CookiesKids.com. I also have a special code for 10 % the entire store. Use themommyhoodchronicles at check out. This code expires 12/21/2012 so hurry now!
* I am a member of the Collective Bias™ Social Fabric® Community.  This shop has been compensated as part of a social shopper insights study for Collective Bias™ and CookiesKids.com #CBias #SocialFabric