My girlfriend who I went to college with, recently become a representative of Rodan and Fields. Her name is Sara and her direct web address is: https://saracavallaro.myrandf.com/. She has generously offered my readers a giveaway of some of her most fantastic products and is equally offering 10% off coupon of all products plus free shipping by contacting her at saracavallaro1 at gmail dot com! She will custom make any offer, give you the perfect skin regime, or any advice that you may have. She is a real sweetheart so feel free to contact her about any information about the Rodan and Fields Skin Care line!
So if you have never heard of Rodan and Fields, let me give you some background. Rodan and Fields products are changing skin care by bringing innovations and useful products in the anti-aging skincare line. I know for me with age, comes all the aging spots and noticeable wrinkles in those spots, that are hard to get rid of. That is where Rodan and Fields comes in to invent the ultimate anti-aging system,. Rodan and Dr. Fields, the creator of Proactiv Solution, made the Rodan and Fields patent-pending AMP MD System to make real results without injections for anti aging.
The regime I recently tried was the REVERSE system. This system helps prevent against brown spots, dullness, and sun damage. Unfortunately exposure to the sun can leave you with less than youthful skin. I know for me, the minute I step out into the sun, I get those dark spots and my freckles exemplifies ten-fold! The REVERSE system helps you to erase the signs of premature aging, including brown spots and sun damage that is so common. The REVERSE regimen exfoliates, lightens, brightens, and protects your skin for a more even tone and texture. It is a system that is recognized in Allure Magazine A list!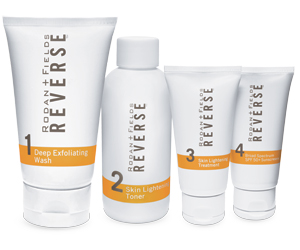 The REVERSE regimen includes a deep exfoliating wash, skin lightening toner, skin lightening treatment, and the REVERSE Broad Spectrum sunscreen. The entire system is available for $160.00 which is very reasonable for young and vibrant skin. I have been using the system quite regularly for the past two months and I find it doing wonders to my skin. I love the exfoliating wash and it makes my skin feel smooth and ready to challenge the day. There is a wonderful smell of peppermint to it which I enjoy. The skin lightening treatment made my dark spots, including my freckles, decrease in pigment color which I really liked. The sunscreen also provided me protection, as well as functioning to see great anti-aging results.
I see a big improvement with using the REVERSE regimen. It makes my skin feel beautiful, shiny, and vibrant again! I see my complexion is more even, as well as the tone, texture, and brightness!  If you are looking for a great skin care line, look no further than Rodan and Fields. Be sure to contact Sara to learn more and receive exclusive offers!
Win it: Sara generously offered one of my readers the following: an ANTI-AGE Multifunction Eye Cream https://saracavallaro.myrandf.com/Shop/Product/AAEY015 ($59.00 value) and our ANTI-AGE Lip Renewing Serum https://saracavallaro.myrandf.com/Shop/Product/AALS060 ($53.00 value). This is over a $100 product package to make you feel young agin! To enter, simply leave me a comment telling me  why you want to win this package and who you want to win it for in the comment section proceeding the post +1 entry. For an additional +2 entry, follow me via email. Please make sure you have a valid email address. Giveaway ends 12/15 at midnight. Good luck! US only. 
*I received the above products for review purposes. As always, all my opinions are my own and not swayed by outside sources.