Another weekend already! I can't believe it. Tomorrow, I am doing a big blogger event at my local Babies R' Us- I am slightly nervous yet excited!
As always, please link up any cute or funny posts. Come read each others posts, as they are always so funny! Feel free to share this blog hop on social media sites, although it is not necessary.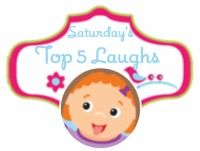 Top five laughs:
5. Hayley is infatuated with doing arts and crafts projects. For her birthday, she amazingly got mostly arts and crafts projects. So everyday, she has to open every single one and work on crafts for hours. It is so cute!
4. Zane learned the word "NO". If you are a mom, you know that is one word we don't want our kids learning:)
3. Zane has hit the toddler stage. He has so many temper tantrums. Can I say that it is actually funny- I put him in the playroom, close the gate, and let him go to town. It takes him a good 10 minutes to stop having it, but then he is happy as a clam.
2. Zane LOVES water. He enjoys baths so much than when I finally have to take him out- #3 happens. He has mastered blowing bubbles in the water. I see swim lessons in our near future.
1. I just love #1! Zane taps me on the back the other day, and he turns to me and says, "I Happy". It just melted my heart!
Now your turn: