Yah, it is Friday finally! It has been a long week here. I am excited because Hayley's forth birthday party is on Sunday. It should be a lot of fun.
As always, feel free to link up any cute, funny, or top five post. Feel free to help me spread this hop on social sites although this is not necessary. Finally, check out the other blogs who link up- they always give me a good laugh!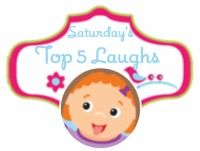 My laughs:
5. This is just a really cute one. Last night, my husband came to me with a video he has been working on. It is a 3 minute video of Zane from birth till he turned one set to music. It is unbelievable! I posted it on my personal fb page but I will be posting it to my blog either Monday or Tuesday…It is a true must watch! I just love my husband.
4. We had a play date yesterday and Zane was sort of choking on a piece of turkey. Whenever, he gets something stuck in his throat, he vomits. Always happens like that! Anyway, yesterday, he had something stuck and he begins vomiting over and over. It was like watching a funny movie- seriously the grossest thing ever. Reminded me of The Bridesmaids scene in the bathroom if you have seen that!
3. Hayley adores Zane. If I ask her, who her best friend is, she will say without fail-Zane!
2. I told you last week how Hayley loves board games. She recently became introduced to the toddler edition of Monopoly. The girl somehow knows how to play that game better than anyone else in the family. She amazes me- for real!
1. Hayley came into my room yesterday and said that she did something really really bad. I asked her to tell me and I would not get mad. She starts tearing up and saying, "No mommy.. It is too bad". Finally she told me in tears that she went pee-pee and she forgot to wash her hands. LOL- that girl cracks me up!
Now your turn: