When I was at Blogher 12 this past August, I got introduced to a product called the Neato Robotics. If you are not familiar with it, it is a vacuum that is all done robotically-meaning there is no manual labor you have to do, to clean your house. I know what you are thinking, there is no way that a vacuum could do this?  If I didn't see it before my own eyes, I would have doubted it too. I can tell you though that in the two months we have owned the Neato XV-21, I have had perfectly clean floors without ever having to lift a vacuum to clean. Sound too good to be true- then keep reading!
The Neato XV-21 is a robotic vacuum cleaner that is specifically designed  for pet owners and allergy sufferers. While I currently do not own any pets, I have used this as my regular vacuum and it is AMAZING! I also tested it out when my sister brought her dog over and all the dog's hair, got vacuumed up with no effort by me.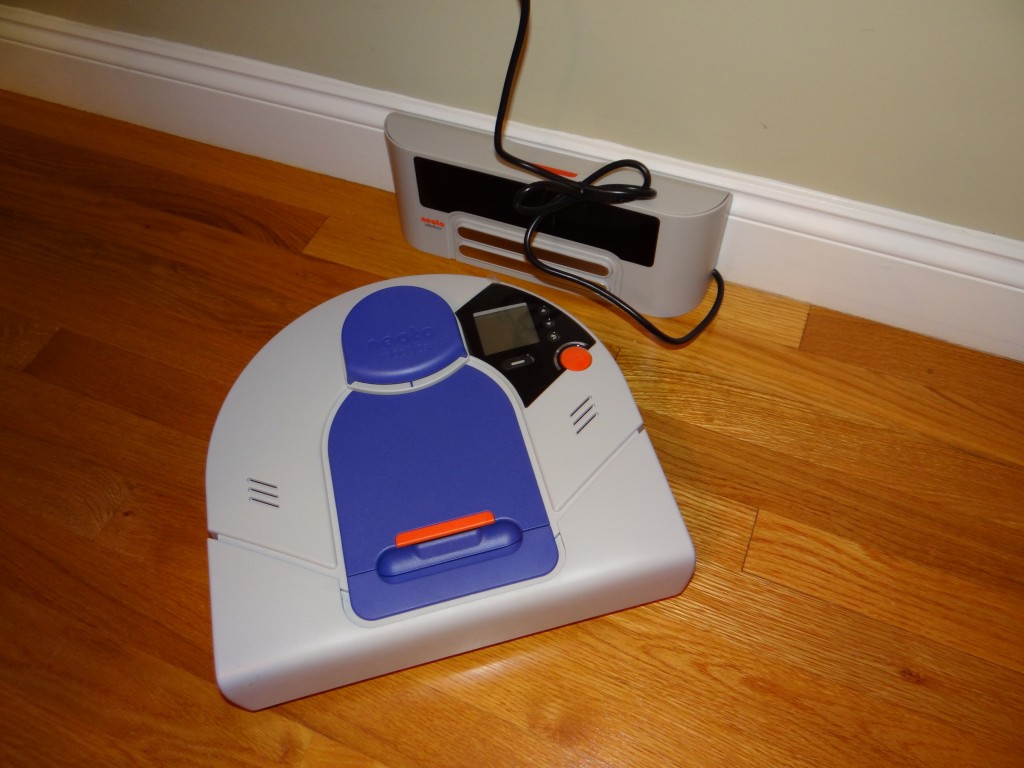 With the most powerful suction of any robot vacuum, the XV-21 will pick up dirt, debris, and pet hair! I have the hardest time keeping my floors clean of food remnants and dirt with two small toddlers who like to drop their food on the floor, and make a mess in my house. It is painfully disgusting some nights when I look at my hardwood and carpet floors. It almost makes me want to cry knowing that I will probably have to spend hours vacuuming it all up. However, with the Neato Robotic, it does a superb job picking everything up from the floor with a small touch of a button from me. I simply start it with the control on the vacuum, and off it goes cleaning away. When it is done, it will go back to its starting point and tell you it is finished. It truly is remarkable!
The Neato XV-21 special filter retains more than three times the amount of fine dust particles as standard filters, which is perfect for removing allergens from the home. A new combination bristle and blade brush improves the pick-up of pet hair, dander, dust, dirt, and fibers.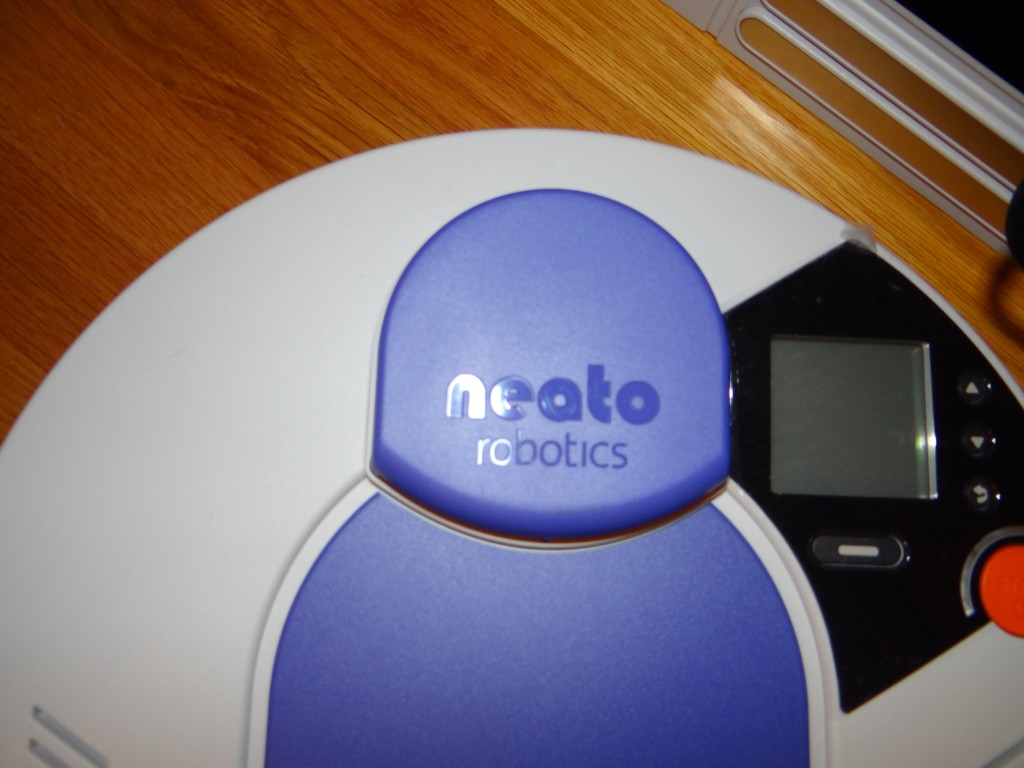 My own hang up with this vacuum was  questioning  just how clean my floors would get. Since I am not manually controlling where the vacuum went, how do I know that it will get my floors clean? The answer is easy, it is programmed to clean every last inch of your floor!  It will even go under cabinets and clean up those hard to reach spots, that an upright vacuum has trouble doing.  It cleans by going up and down your floors and back again in a back-and-forth pattern. This method is the quickest and most efficient way to ensure every spot of your floor gets cleaned.
Once you receive your Neato XV-21, you will begin to charge with the charging base that is included. It will then prompt you to select what language you would like to use to tell the robotic what to do. Once the language is selected, the light around the start button will light up to let you know when it is charging. It usually takes about 2 hours of full charging before it is ready to use.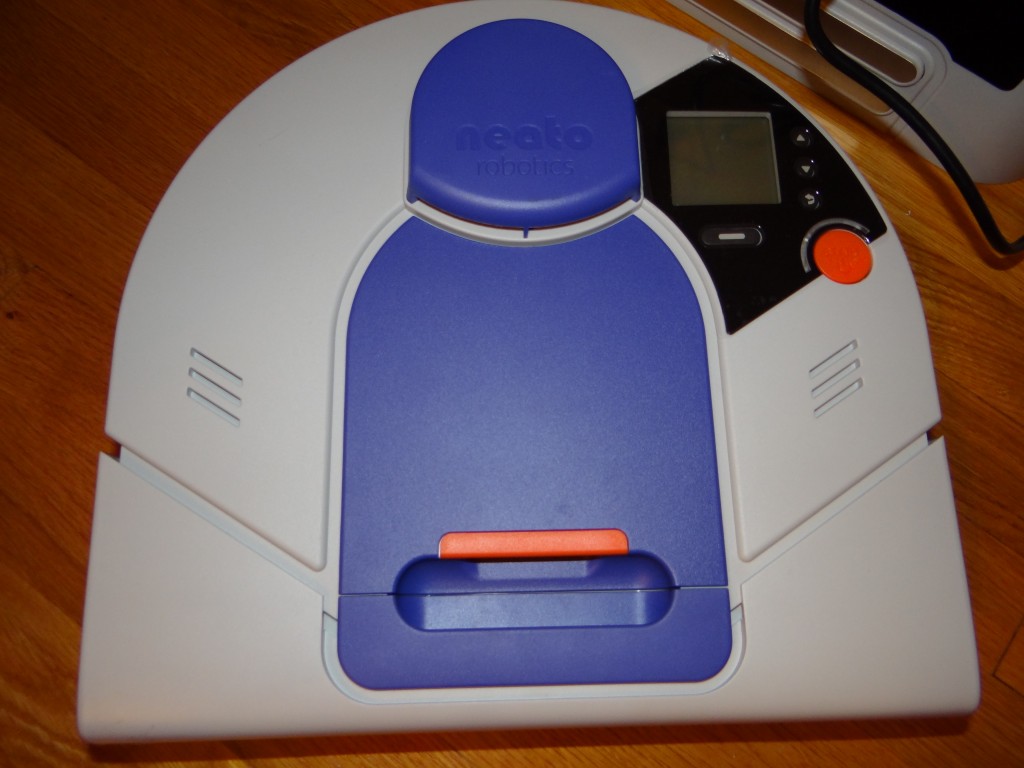 Once it is fully charged, you press start to wake up the Neato and press start again to begin vacuuming your floors. It is that easy! You can even schedule your Neato to clean at a specific time while you are work or out of the house. I have not done this feature yet because I love seeing the Neato do the job (it amazes me every time) but I do plan to try this feature in the future.
I love the fact that there are also no bags to buy or replace when using the Neato. When the dirt bin is full, simply empty it into the trash and start again. It also holds A LOT of dirt before you have to officially empty it. I have gone through 3-4 full cleanings, before I needed to empty the bin.
I am completely in love with the Neato Robotics Xv-21. I have perfectly clean floors now thanks to the Neato. With two small kids and not a lot of time, I can now rely on the Neato Robotics to do the work for me and get my floors clean. It is also amazing the technology that is built into this machine- it will use the scuff-free navigation to make sure it never scratches your hardwood floors or damages any furniture or walls. The Neato Robotics XV-21  is available for $429.99 on their site, Neato Robotics, along with other retailers nationwide. It is worth every dollar- I promise!!
*I received the above product for review purposes. As always, all my opinions are my own and not swayed by outside sources.