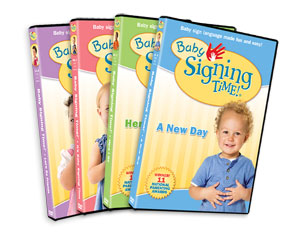 When Hayley was a baby, I was totally against teaching her children sign language, I will admit. Being naive and not thinking it will work, I remember saying, "If I teach them sign, they will not speak". Then I remember when Hayley was around two months old and sitting with my sister-in law who is a speech pathologist  having the talk with her about whether she thought baby signing was effective. She said an astonishing, loud YES to me! She told me that she is a firm believer in sign, and told me that it actually did the opposite of making them speak later- it made them speak earlier!
So off I started at 2 months learning all the basic signs of signs. I read books and went to my #1 resource- Baby Signing Time! I am so thankful for the people behind baby signing time for giving me the resources, to start learning baby signing time and teaching it to my children. While recently they did provide me some of their newer DVDs to review, I would have wrote this post regardless. I absolutely love Baby signing time and their repoitore of DVDs, books, and Cds!
At around 3 months (when I finally knew a handful of signs), I started doing it with Hayley. For example, she was eating cereal, I would sign "cereal", along with saying the word "cereal". You should have saw me- I just signed and said different words all day long! At 5 months, Hayley learned her first sign of "more". She then went on to know about 20 signs by the age of 1 and today, at age of 4, she knows over 100 signs. I am not saying this to brag at all, but I am just so proud of her for keeping her love for sign. Now, you might be asking, well- how did she speak? That is an easy answer- she said her first word at 11 months and was speaking in full sentences at 18 months of age. Her language was and still is unbelievable! I credit that to sign and her love of all the baby signing times videos!
With learning baby signing and using the Baby Signing Time products, I have witnessed so many less tantrums since they can actually communicate what they want! It also stimulates their early language, language skills, and helps to build a larger vocabulary. I also read that it will instill confidence in your little ones and I do see this!
When Zane was born, I also started him with the Baby Signing Time DVDs and flash cards. He did exactly what his sister did and by 18 months, he is speaking around 50 words. He is not speaking in sentences yet but he is pretty close! He also knows around 30 signs and uses them everyday. It is actually quite neat to see Hayley and Zane signing to each other with baby signing.
If you are interested in starting baby signing, I highly recommend you do! A FANTASTIC set of products to make it fun for your children to learn in an exciting and entertaining way, is by way of all the Baby Signing Time DVDs available on the market. They have a plethora of adorable DVDs that all incorporate your basic signs and go up to advanced signs based on what DVD you use. I truly think the Baby Signing Time DVDs might be either my first or second mom essentials when you have a baby! That is how much I love the Baby Signing Times DVDs!
Here is a video of Hayley signing at 5 months:

Have you tried baby signing? Did it work for you?
*I received DVDs for review purposes. As always, all my opinions are my own and not swayed by outside sources.