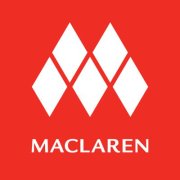 I can't even begin to tell you how excited I am to be working with Maclaren on a stroller review-giveaway. When I was first registering for my daughter and was asking all of my mom friends for suggestions on a good stroller, they all would recommended Maclaren. I would say about 9/10 recommended Maclaren without even hesitating. So, I followed all of their suggestions and purchased the Maclaren Quest. I truly love it to this day! It is awesome and we take it everywhere with us.
Now that Zane is around the age where he is beginning to finally sit in the stroller, I was grateful to have received the Maclaren Triumph for review. Actually Hayley saw the stroller and she instantly claimed it, so now Zane is in the Quest and Hayley has the brand new Maclaren Triumph. I have to say, I absolutely have zero complaints with the Maclaren Triumph- it is an amazing stroller with so many wonderful features. If you are looking for a great stroller that is lightweight and equally comfortable, the Maclaren Triumph is for you!
The Maclaren Triumph is your all purpose, go fast stroller for everyday use. It is extremely lightweight coming in at only 11.5 lbs. and is incredibly easy to fold up when you are done using. It fits perfectly even in the smallest trunks of cars. The Macalaren Triumph is a dependable stroller to take with you wherever you go. It is a suitable stroller from 6 months of age to as long as your children will sit in a stroller. Hayley is 4 and still going strong in the Maclaren Triumph. I don't see her giving it up anytime soon- hey, I would love if someone strolled me around in a uber-comfortable stroller!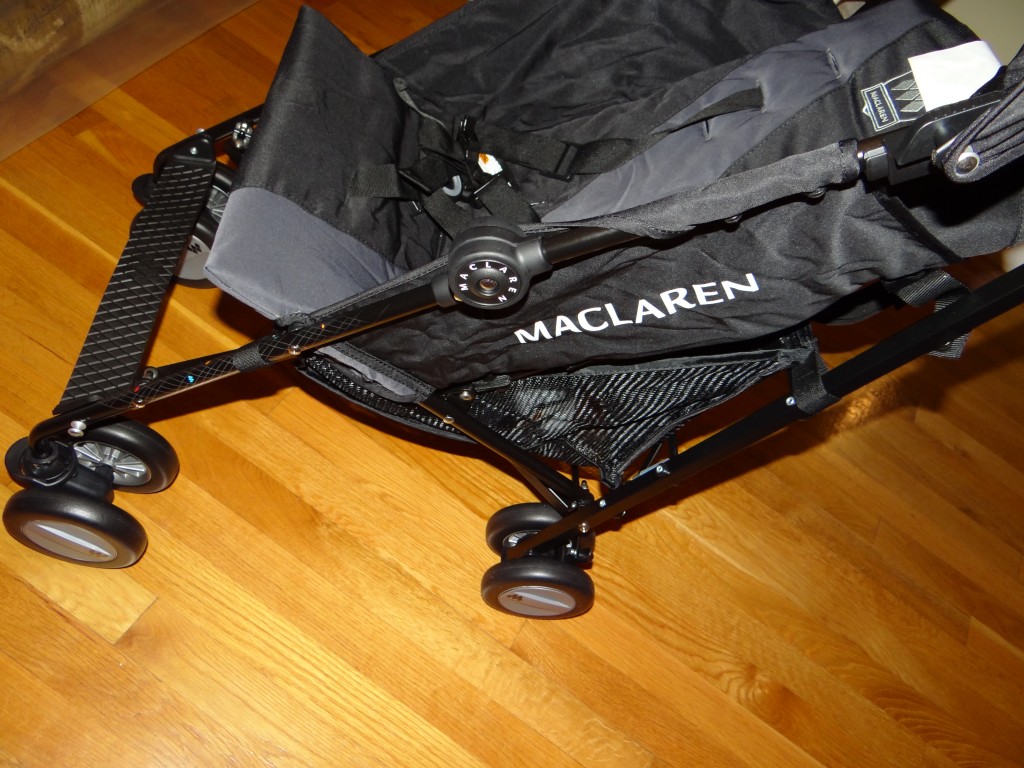 There are so many features I love when talking about the Maclaren Triumph. One of the main features that really struck me was the multi position recline. It has an easily adjustable strap recline system that provides various positions that your children can sit in.  While Hayley no longer sleeps in a stroller, sometimes she likes to just relax in a reclined position. With the Triumph, I can easily it adjust it from sitting to reclining position with one hand. I also love that I can fold the stroller with one hand in around 5 seconds. It took me a second or two to figure out as it is slightly different than the Quest, but once I did, I realized how easy it truly was.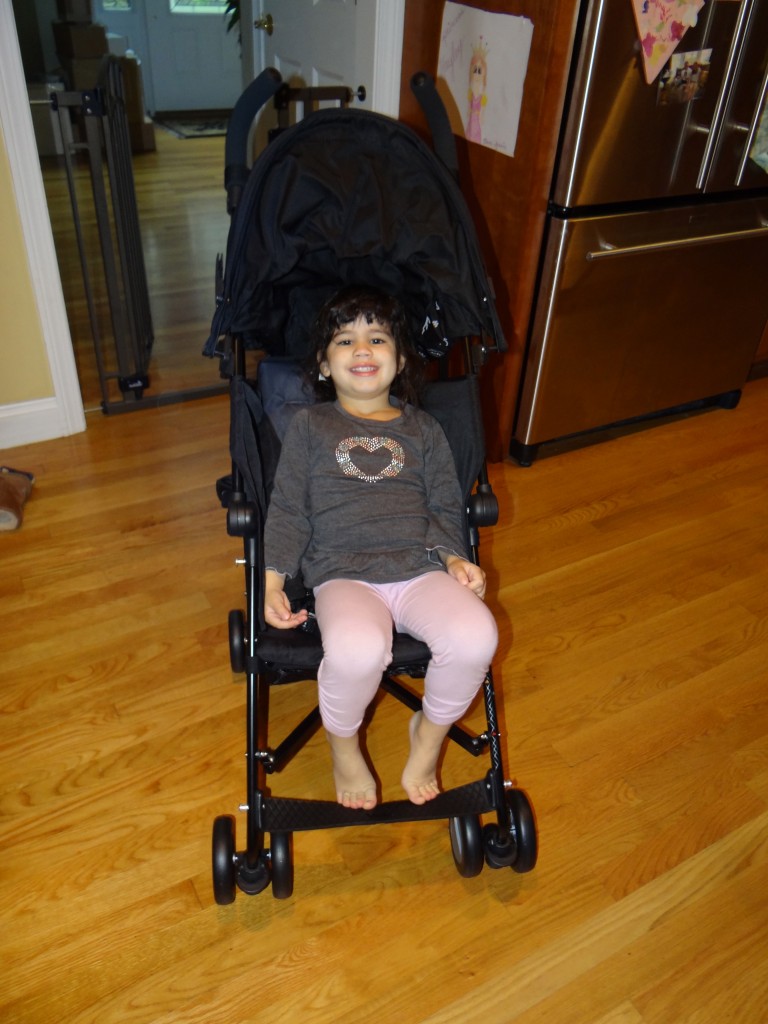 I also love the ergonomic foam grips handles which are at a comfortable height so I can steer the kids with no problems. I know there are handle covers out there for strollers but with any of the Maclaren strollers, you will not need this. They already have built in foam grips for your comfort needs. The Maclaren Triumph also has 4.5 ' dual swivel wheels which makes for a very smooth ride. I have zero problems maneuvering this stroller even through some roads that have heavy curves. It just moves so smoothly. It also comes with foot operated parking brakes which is a huge plus when I need to put the brakes on the stroller, when I have to get the other child out of the car and one is already in the stroller.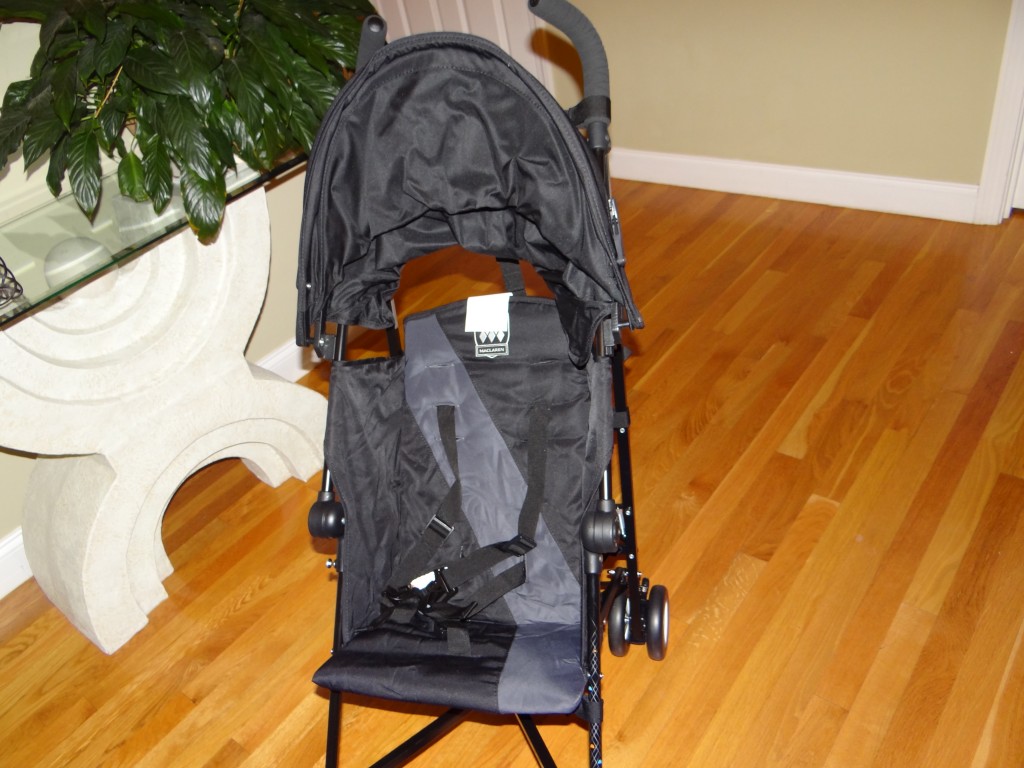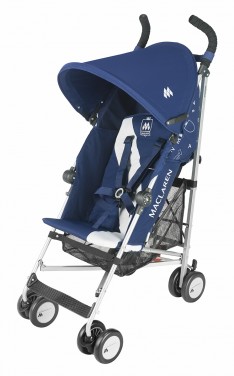 Lastly, it has a complete water-resistant hood, shopping basket, and cover for the rain/sun that is included with the Maclaren Triumph. It is very portable and has an easy carrying strap for convenience. I also feel very comfortable knowing that my children are in the 5 point harness, with adjustable shoulder straps, so they can't escape when they are properly buckled in.
The Maclaren Triump is an absolutely wonderful stroller! If you are on the lookout for a new stroller, look no further than the Maclaren Triumph. It is available in 5 different colors and is sold all over the country including Babies R' Us, Amazon, Toys R' Us, Diapers.com, and on the Maclaren website for $185.00.
Win it: One winner will receive the Maclaren Triump. This giveaway is run via rafflecopter so click read more to see the actual giveaway. The only mandatory entry is to tell me what feature of the Maclaren Triumph you liked the best from my review in the comment section proceeding the post. While the other entries are optional, I highly suggest you fill them out to increase your chances of winning. US only. Good luck.
a Rafflecopter giveaway

* I received the above product for review purposes. As always, all my opinions are my own and not swayed by outside sources.