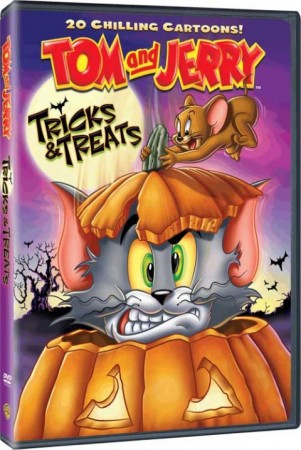 *Tom and Jerry are in for spooks galore in this monster collection. With 20 eerie episodes plus two bonus episodes, your goodie-bag will be overflowing with fun! Tricks and treats are at every turn, from ancient Egypt to Transylvania, from creepy houses to haunted forests, the hair-raising hilarity is non-stop! Our favorite cat and mouse mingle with ghosts, mummies, werewolves and witches in these terrific tales. Of course, Tom and Jerry have a bounty of tricks up their own sleeves as well! Fear not, the chase is on! It's a scare-iffic good time for the whole family!*
How many times when you were younger, do you remember turning on the Saturday morning cartoons to see the Tom and Jerry episodes? I remember waking bright and bushy eyed so I can watch Tom and Jerry on the television. It was by far my favorite cartoon. When I had the chance to introduce Hayley to this new Tom and Jerry Trick and Treats DVD, I knew it was the perfect chance to expose her to the same love of Tom and Jerry I had.
When we turned it on, she was glued from start to finish. The Tom and Jerry Tricks and Treats DVD is approximately 161 minutes but is broken up into shorter cartoons including:
-More Powers to You
-Over the River and Boo! the Woods Fire Breathing Tom Cat
-Touché, Pussy Cat!
-The Flying Sorceress
-Tiger Cat Robin Hoodwinked
-Jerry's Cousin
-Invasion of the Body Slammers Haunted House
-Trap Happy
-Spook House Mouse Bats What I like About the South
-Fraidy Cat Scat
-Which Witch Monster Con
-Tomb It May Concern
-Power Tom The Itch
-Hi, Robot
Bonus Cartoons: -Ho, Ho Horrors -Doggone Hill Hog
Hayley never saw Tom and Jerry before and she exclaimed to me, that it was now her favorite cartoon!  I thought she might be slightly scared because it does a ghost in it, which Hayley does not usually like, but this time all she said is "Mommy, I like this cartoon. I know the ghost is not real".  It brought me back to my school days seeing Tom, Jerry, and Touché, Pussy Cat! This is the perfect DVD in time for the Halloween season! Your kids will LOVE it. Make sure you check out Tom and Jerry Tricks and Treats which is available at the WBShop for $13.99.

*Thanks to WB home entertainment for providing me a copy of the above DVD for review purposes. As always, all my opinions are my own and not swayed by outside sources.