I hope everyone had a great week! This week was busy with next week being even busier, as Hayley is turning 4 on Tuesday:)
As always, please link up any funny, top five laughs, or  cute posts. Feel free to help me share this hop on social media sites although this is not necessary!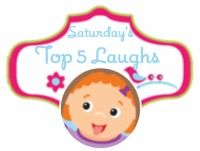 &nbsp
Top five laughs:
5. Hayley is seriously in love with her brother. The only problem is everytime Hayley comes near him, he pushes her and is little voice says, "o..ff..fff"
4. Hayley is a regular when it comes to the bathroom in the middle of the night. I tell her every night that she does not need to come into my room and tell me when she needs to go to the bathroom. Without fail, every night at 3 AM, she comes in and says, "Mommy, is it okay to go to the bathroom?"
3. Zane and Hayley went apple picking last Sunday. This was the first time Zane had an apple and now he is obsessed. All he says all the time is "More Apple…More Apple."
2. We get a lot of packages delivered to our house being a blogger. Hayley always asks the mailman if she could open the package." The mailman always says, "You need to ask your mommy." Repeat this story everyday with the mailman… he is very patient though!
1. This is just cute: Hayley came in my room last night around 5 AM and just needed to tell me that she loved me. LOL!
Now your laughs: