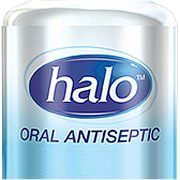 When I was at Blogher12 this past summer, I got introduced to a brand new product on the market called Halo Oral AntiSeptic Spray. I was so intrigued as it is one of the most effective oral antiseptic sprays to protect against airborne germs and kill 99.9% of infectious germs. Being a dentist, I NEEDED the Halo spray since I am surrounded by patients all day, some who still come to see with with the common cold. I am at risk all day, everyday, to pick up all these germs when I am doing dentistry on them.  I do get sick quite a bit so thankfully, I heard about the Halo Oral Antiseptic Spray and am now able to use it in my office to prevent myself from getting sick.
Even if you don't work in an office, there are so many places you could pick up infectious germs including a crowded mall, elevator, at the movies, in the gym, even at the grocery store. How many times have you had someone have a hacking cough attempt to approach you. I know we all have! All these moments are called "Halo Moments" and can now be avoided by using the new, clinically proven Halo Oral Antiseptic Spray.
The Halo Oral Antiseptic Spray is clinically proven to kill airborne germs you breathe in. It is proven to kill 99.9% of infectious germs including broad spectrum of bacteria and viruses, including a broad spectrum of bacteria and viruses, such as rhinovirus (the virus that causes the common cold), influenza and H1N1. It is quite easy to use as you spray three sprays quickly into your mouth and then you are able to repeat the process three times a day. It comes in several flavors including cherry and lemon, and  could last up to six hours once you use the spray to avoid the "Halo Moments."
I thought I share with you some additional facts and information regarding keeping yourself heathy by using Halo:
-75% of daycares,, 33% of medical offices and 67% of airplanes have enough airborne viruses to infect someone in one hour
-On an average day, you take about 17,280 breathes- this wouldn't be an issue if we didn't spend 90& of our time indoors (in other words, there are over 17,000 opportunities a day to breather in other peoples' airborne germs)
-Halo Oral Antiseptic spray is an FDA-monographed oral antiseptic
-The results from independent studies and clinical trials on Halo's efficacy have been accepted for presentation at and publication by the Infectious Disease Society of America and the Interscience Conference on Antimicrobial Agents and Chemotherapy, two of the leading medical societies in the US
-University's Hospitals Case Medical Center Department of Pathology (Cleveland, OH) tested Halo against 11 strains of Whooping Cough and Halo completely kills all 11 strains.
-Halo Oral Antiseptic Spray is portable and perfect for travel (1 fl.oz size adheres to TSA regulations for carry-on luggage or purse)
-There is a children's version for kids aged two and up, which is available in grape flavor.
-Halo is alcohol free and sugar-free.
I will tell you that I have been using Halo Oral Antiseptic Spray now for a month everyday! I have not gotten sick once, even with my children both having the cold, not one but two times this past month. I actually enjoy the taste as well! Halo Oral Antiseptic Spray just hit the market and is available at CVS, Target, Walmart, Rite Aid, Kmart, and other mass market retailers for $12.99. Feel free to visit HaloGermDefense for more information and check them out on Facebook and Twitter.
*I received several samples for review purposes. As always, all my opinions are my own and not swayed by outside sources.