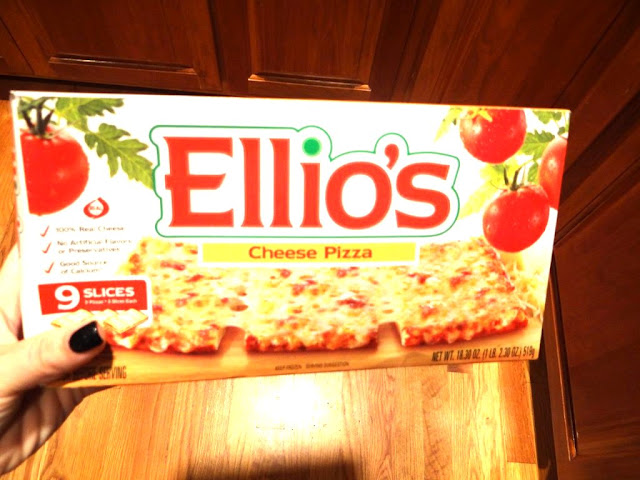 Have you tried Ellio's pizza? If not, you must run to your local supermarket and try it. It is one of the most delicious pizzas on the market, and is available in your local freezer section of most food stores. I have been an Ellio's pizza fan for many years now and am so glad I have the opportunity to tell my readers all about.
My love of Ellio's pizza started when I was young child and my parents would serve Ellio's to us as a perfect and very convenient dinner meal. It was a great break for my parents, who both worked, to not have to cook for us every single night. They would store the Ellio's in the freezer and have it available when they got home late from work. Since I loved Ellio's so much as a child, I was so happy to introduce it to my family. My husband actually never tried Ellio's before (I know..gasp) so I wanted to serve up a great family night and introduce both of my children and my husband to Ellio's!
After they ate dinner, they responded that the pizza was AMAZING! I told my husband he has been missing out on many years of eating this delicious pizza, but we can start our Ellio's pizza tradition now. Ellio's pizza is so good because it is made of 100% real cheese with vine-ripened tomatoes. The crust is freshly rolled and once you take it out of the oven, it is piping hot and super fresh! Ellio's Pizza is made of wholesome kitchen ingredients you can readily pronounce and has the famous Ellio's taste your whole family craves!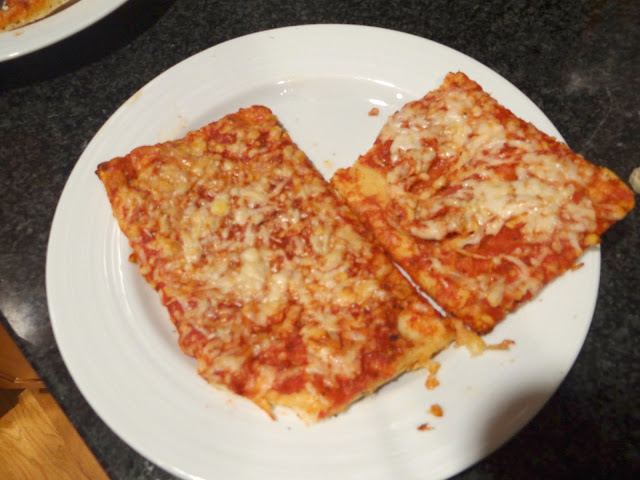 Ellio's Pizza provides end to end toppings, one of a kind sauce, wholesome crust, and real cheese- seriously, what more could you want from a pizza! What I particulary love about this pizza is the unique rectangular shape that could be broken off into various smaller slices. That is awesome for my family, as Hayley and Zane don't eat very much at this point. I now can break off a piece of the pizza to give them each their own individual slices, without having to worry that they won't finish it. I truly hate wasting food! I don't think they could make it easier for those of us with kids, with the concept of breakable slices.  This pizza is perfect for those little hands and big hands alike!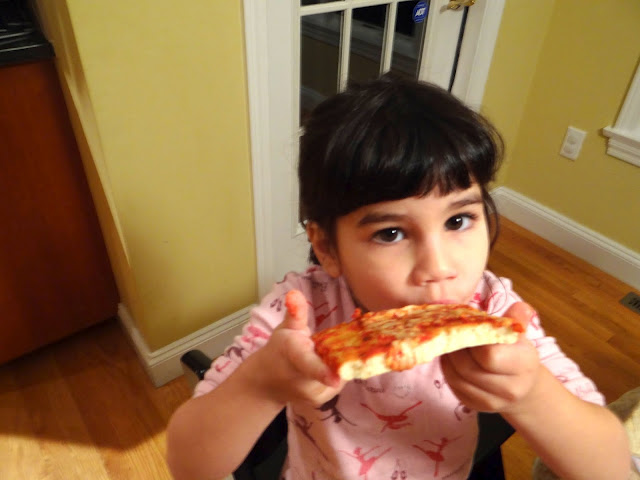 Ellio's has five varities of pizza to try including cheese, pepperoni, Italian sausage, supreme, and extra cheese pizza! I have tried most of the varities and my favorite is the original five cheese pizza. However, both of my kids love the pepperoni pizza, so I guess it is based on your own personal taste. I will tell you that you can easily customize the Ellio's Pizza so each person can make their own pizza. We haven't done this yet because the kids love the Ellio's pepperoni bland currently, but certainly plan to in the future!
Ellio's pizza is simply delicious! Now as a mom of two kids that constantly need to be at different activities, Ellio's make it very easy for me to get a great dinner on the table that will satisfy my whole family. I can still drive the kids around and be back in time, to just pop an Ellio's in the oven, and have a fresh pizza in no time flat! The whole family tremendously enjoys Ellio's! This is seriously a first because Hayley and Zane are both so picky and give me a hard time eating all the time. This is not the case when I put Ellio's on their plates!
Ellio's Pizza is a great family dinner option that is readily available in your local supermarkets across the country. You can learn more about Ellio's on their website: Ellio's Pizza, as well as on their Facebook and Twitter page..
Giveaway:  Two lucky readers will each receive 5 coupons for free Ellio's Pizza! This giveaway is run via rafflecopter so click continue reading to see the actual giveaway. The only mandatory entry is to tell me which Ellio's pizza variety looks good from the list here: Ellio's in the comment section proceeding the post. While other entries are optional, I highly suggest you fill them out to increase your chances of winning. Good luck! US only. *Winners are only eligible in locations where Ellio's Pizza is sold.  Please make sure that your winners have checked the store locator (http://bit.ly/Q4aKcu) to make sure that they can redeem their coupons! 
*I participated in a campaign on behalf of Mom Central Consulting for McCain Foods. I received a sample to facilitate my review as well as a promotional item as a thank-you for participating.