It is back to school time and with this, means  I have a couple more minutes to actually shop! During the summer when both kids were home, I hardly had time to browse the internet looking for clothing. Now that all changed and I can spend some time on me! As most of you know, I absolutely love fashion. I can seriously spend all day checking out the latest fashions in the magazines. I love to put together different pieces of clothing with accessories. While I don't get to spend a lot of time doing this on an everyday basis, every weekend I make sure, when we go out that I look good and that starts with my clothes!
I recently found a site called Ultimate Outlet  which is the premiere destination for ultimate savings! How neat does that sounds! At Ultimate Outlet, they have a wide variety of fashionable products including dresses, jumpsuits, blazers, skirts, tops, sweaters, outwear, bottom, legging, and loungewear. I happen to browse on the dresses and saw this gorgeous Hi-Lo Halter Dress with Contrasting Layered Ruffles and the Strapless Satin Rosette Dress which I think would look amazing on me. Best of all, these dresses are only $39.00 and $49.00, respectively. What a great deal for great fashion!
They also have an some very fashionable swimsuits available. While summer is coming to an end, I know for me, I will be vacationing in December and want some new swimwear. I found some great pieces like the ones below for only $19.00. Seriously where can you find swimsuits for $19.00 anywhere these days!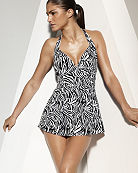 You can also check out their shoe and handbag selection on their site. They have a wide variety of boots, pumps, flats, loafers, wedges, and handbags. I absolutely loved searching through the shoe collection. I have a shoe obsession and saw some great shoes that I would love to add to my collection. They also have belts, fashion jewelry, and scarves to make your outfit really pop out!
Since I am a petite size, I loved how I can find sizes that actually fit me. No more having to go to the tailor to fix the sizes that end up being too big on me inevitably. If you are of a taller frame, they also cater to you as well! Don't worry if you are not petite or not tall, they have basically every size imaginable so you can definitely find something.
Ultimate Outlet is an awesome clothes store that can easily make me fall ready this year! Be sure to check them out!
*This is a partnered post. All my opinions are my own and not swayed by outside sources.