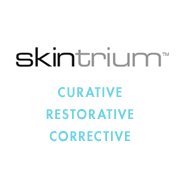 Have you heard of Skintrium before? If not, let me tell you a little about them. Skintrium is an amazing product line that features  skin products to help us moms out there!
At Skintrium, they are the international experts in skin lightening, whitening, and brightening -now home to Fair & Flawless® and Skin Soho®.  You can discover a world of luxurious, curative, restorative and corrective skin care products that give you even, glowing, lighter skin; groundbreaking, high quality formulations for women and men of all ethnicities that restores and rejuvenates. Dermatologists applaud. Customers simply fall in love—and come back time and again. Discover why.

Skintrium lets you choose how your skin color will look and give you flawless skin that is free of freckles, scarring, roughness, discolorations!
(taken from Skintrium website)
*Beauty today begins with skin that glows with optimum health, kissed with makeup-optional radiance, and corrected to a color depth that's just right for you.
In the time it takes other skin lighteners to begin showing a slight effect, you can be enjoying dramatic results with our gorgeous products. To start with, we're lavish with luxurious (and worth it!) lightening ingredients, often combining several to give you the most powerful skin lightening possible. We add gentle humectants that make skin more receptive to the lightening treatment. We balance pH for a healing, natural environment. Finally, we pack these wonderful products with rich nutrients and botanicals to refresh, renew, and restore your skin.*
Literally millions of fans around the globe agree that these are the most amazing skin lightening products anywhere. Skintrium™ customers return again and again to refill their orders, and send in compliments that frankly make us blush.
****I want to let you know about the amazing Skintrium Sweepstakes they are doing. Entry is extremely easy and you can win a free esthetic blend face whitening moisturizer valued at $200! It is so easy to do: simply fill out a 30 second form and you are all entered. What are you waiting for! You can also get 10% of all products with the coupon code Curative!****
*This is a partnered post. As always, all my opinions are my own and not swayed by outside sources.