As most of you know my son, Zane, got diagnosed with food allergies with the most severe being peanuts. It was a very rough transition for my husband and I to get rid of all peanut products from our house. Hayley, our four year old daughter, favorite snacks all contain peanuts, so we had to get rid of her snacks as well. She was none too happy but she knew that it could make Zane very sick, so she accepted it. While we obviously got rid of any snacks with peanuts, there are so many snacks out there that are labeled, "May contain traces of peanuts or processed in a peanut factory." All of these foods we needed to get rid of as well. I had a very difficult time finding snacks that Zane could eat, that Hayley can enjoy as well. Thankfully, the people behind Skeeter Snacks contacted me to review their completely nut-free snacks, that everyone in my family can enjoy! I am so glad they contacted me because I have since been raving about these snacks to my friends who have kids with similar allergies and now I have the chance to tell my readers all about them.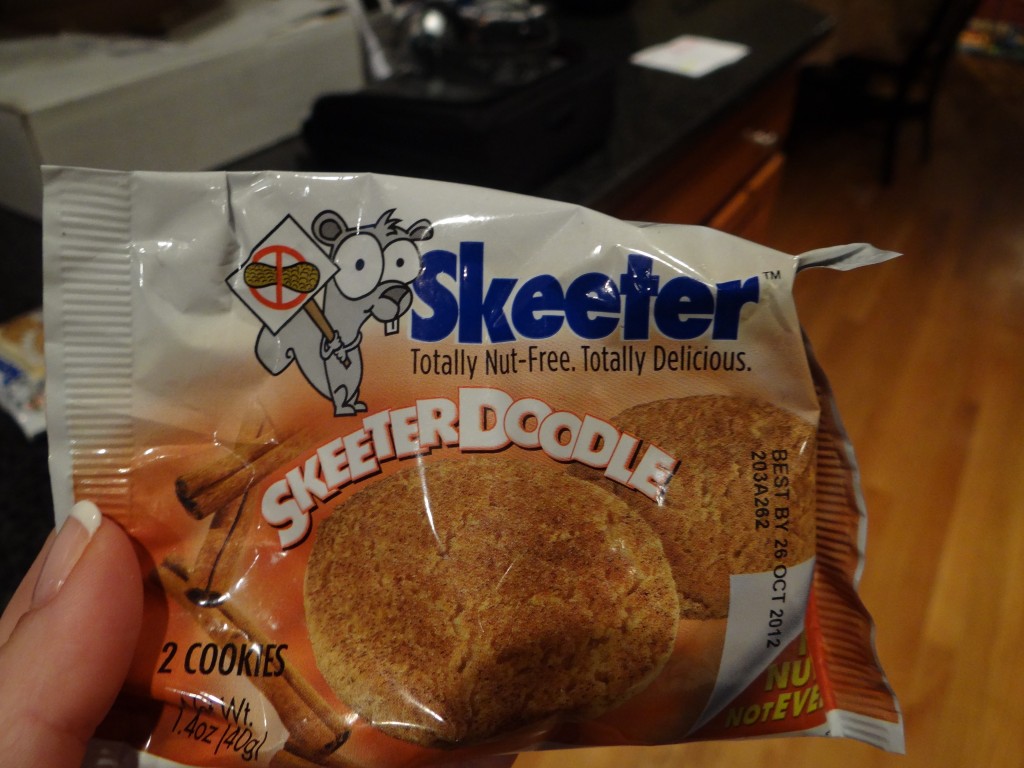 Skeeter Snacks are peanut free and tree nut-free snacks that everyone can enjoy. The line started out with a variety of delicious cookies including the Chocolate Chunk, Golden Oatmeal,  Skeeter Doodle , and the brand new flavor Chocolate3.  I say delicious, but truly they are outstanding. They are a nice size cookie that can easily be handled by children as young as a year old. When I asked Hayley her favorite Skeeter cookie, she said it was the Chocolate Chunk. While I love all three of them, my favorite is the Skeeter Doodle. Zane meanwhile has absolutely no preference- he just loves these cookies! Skeeter Snacks is a new company starting out with completely nut-free cookies, but they are going to expand greatly to include many other delicious snacks. As a mom with a child with a severe peanut allergy, I personally thank them!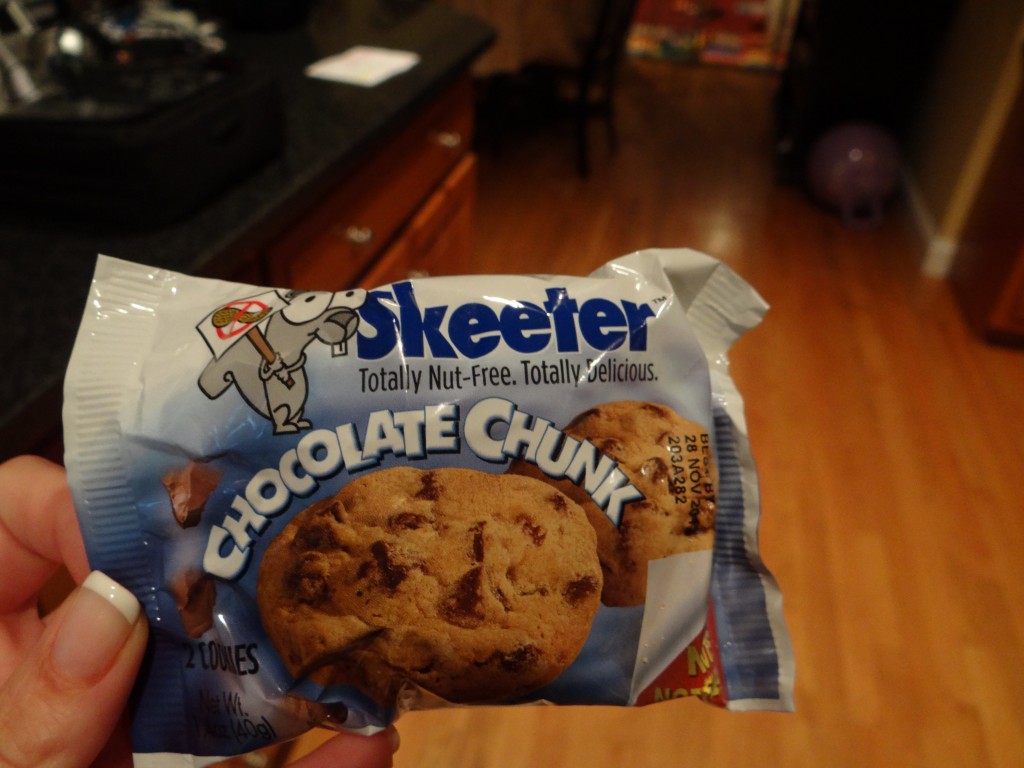 Most of the times, foods that are peanut free and tree nut-free, can taste dull and cardboard like. Along with not tasting great, the cost to buy these foods are exorbitant.  This is not the case with Skeeter Snacks at all. With regards to the taste, these cookies taste very good. They are the perfect consistency in that they are not too hard or soft to eat. Even though I serve them to Zane, Hayley enjoys these cookies immensely. I don't have to buy the kids separate snacks because one child has an allergy and the other doesn't- these Skeeter Snacks are perfect for both kids. They also come in 6 packages of 2 cookies each, and retail for under $4 for all of them! I don't think you can beat that!
Skeeter Snacks was started by Pete and Dave who both have kids with peanut allergies. After seeing that there was not too much on the shelves for kids that suffer with peanut allergies, they developed this snack line to help their kids enjoy snacks as well. They decided these snacks would be not only a perfect snack food at home, but also a perfect treat to bring to a birthday party, because we know these days, all the cakes are made with peanuts. We just went to a birthday party and I felt bad Zane could not eat the cake. Luckily, I had the Skeeter Snacks and he was so happy with them! It was his own special treat! All of their food is not only processed in a completely nut free and peanut free factory, but they don't even let any foods in their vending machines that could be possible contaminants. They are committed to making sure all their snacks are 100 percent truly peanut free!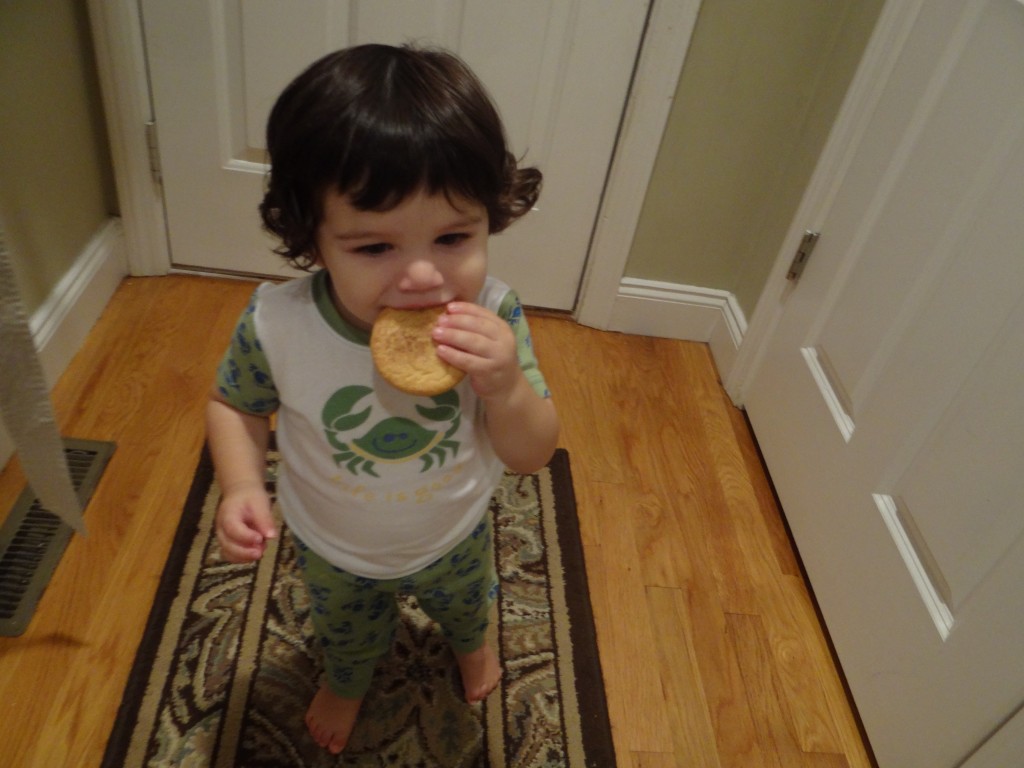 I know this is a long review on snack foods but I truly believe in this company. Skeeter Snacks has helped me to allow Zane to have delicious cookies, without me worrying about him! Thanks again Skeeter! For those with kids with food allergies or even if your kids don't have food allergies, I highly suggest checking out Skeeter Snacks and purchasing them. They are also popping up at grocery stores across the country, so stay tuned… Recently, the  entire line of Skeeter Snacks are available in Northeast Costco's from Virginia to Maine. Additionally, sampling of the cookies will be taking place in those stores this Friday, 8/17 from 12-6pm.
* I received Skeeter Snacks to facilitate my review. As always, all my opinions are my own and not swayed by outside sources.