Hi Everyone! Happy weekend!! I hope you guys don't mind if I only put up one laugh this week. I had a really tough work week (everyone seems to want to bring their kids to the dentist in the summer,lol) and my head is spinning. I hope you can forgive me this one week for just doing one instead of of five!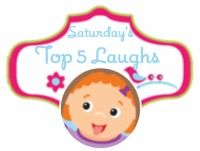 I can't wait to read all your posts. As always, feel free to link up any cute/funny/or top five laugh post. I love reading them all! Feel free to also check out the awesome bloggers who link up. Be prepared to have a tissue because you might cry tears of laughter. If you like to help me share this hop on social media sites and/or take my button, please do- nothing is mandatory though, obviously.  Enjoy!
Zane had a bad bout of diarrhea this week. Hayley kept saying, "Mommy, please go change Zane- he is stinking up the whole house." I usually say in one minute because I am finishing doing something and she says, "Mommy, what don't you understand- he stinks!" She cracks me up! The next am, Hayley went into Zane's room, and he had a very bad poopy explosion overnight. Hayley yells to me, "Mommy, don't be mad but I think Zane got poop on the wall."  I will end the story here to spare you all the nasty details but I will say my Hayley is such a hoot! Now that I left with you a good visual and laugh, come link up!