Welcome to the Holiday weekend. O'kay maybe not really a holiday weekend, but  in my head, it is one. I hope you all have a fantastic weekend.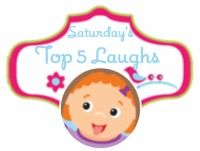 As always, this is a funny/cute/top five blog hop. Come link up any cute/funny posts that you have. If you have time, check out the other blogs who link up too as they are so funny! Feel free to take my button and help me share on social media site if you like!
My top five laughs:
5. This is not really funny but so cute! Hayley is so in love with the water. She can swim for hours and it is such an awesome sight to watch.  She has been taking lessons since she was 10 months and she used to cry every time. I am so glad I continued to take her, it truly paid off!
4. Zane had his 15 month appointment this week.  He did great with shots! I was so proud. I thought it was funny that he lost 1/2 pound. It must have been all his crazy running he has been doing.
3. This week I accidentally called her Princess, Snow White instead of Belle. Hayley looked at me and said, "Mommy, how can you get the princesses confused!" Silly Melissa..
2. I have an alarm clock in Hayley's room that I set because she has been getting up so darn early. I accidentally set  the alarm this morning for 6 am- I usually set it for 8 am. I had a bouncy girl calling out for me to get her at this early hour.  I will never make this mistake again!
1. Zane is such a Mommy's boy. For real, he will cry if he wants me and anyone else picks him up. My mom didn't believe it, so I told her to test it out. He was crying and trying to escape my mom's arms. I told my mom, that the minute I pick him up, he will stop crying. Low and behold, I picked him up and no more tears. I secretly love that he is a momma's boy!
Now onto your laughs: