Thank you for stopping by The Summer Fun Giveaway Event, hosted by Mama to 4 Blessings and Mommyhood Chronicles (ME!) This event will take place from July 8th at 12:01am EST to July 18th at 11:59pm EST. For this event we will be celebrating summer! Which means each participating blogger will be offer summer related giveaways $15.00 and up! After entering my fantstic giveaway be sure to visit each blog from the linky below the Rafflecopter and enter for your chance to win
some really amazing prizes!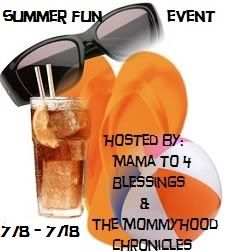 Now onto my wonderful giveaway from Maukilo Haba toys:
About Maukilo (http://www.maukilo.com/)
When it comes to unique, high quality toys and gifts, Maukilo is unmatched in selection. Whimsical and innovative, our baby toysand toddler toys reflect our values of staying playful and environmentally-friendly.
Owned by HABA, the German-based forerunner of wooden kids toys, Maukilo has always offered a variety of European toys that serve to educate and inspire children throughout the years. Designed with creativity and incomparable durability, with Maukilo products you can truly Buy Once, Play Forever.
When I first heard of Maukilo,  I knew it must be a great company as it was owned by the fabulous HABA company!  They have so many wonderful brands under the Maukilo name including the ever famous HABA toys. I love the imagination that HABA allows my kids to have. Their toys are second to none!
We had the chance to review, 3 various outdoor toys for the summer. These three toys and products make fabulous beach or pool toys. They are also fantastic if you have access to a sandbox.
1. Maukilo HABA Sand and Water Workshop :
The Maukilo HABA Sand and Water Workshop is a three piece set that allows your children to express their imagination in the sand. It comes with a bright orange watering can , a funnel, and a sand sieve. You simply fill up the watering can with water and then add it to the funnel. After water is in the funnel, you then add sand to the top of it, and your children are ready to write whatever they want in the sand. Hayley had a blast doing this. She did it with my husband and they wrote all sorts of words in the sand. Hayley was ecstatic when she saw that these toys allow her to write words. She was amazed! My husband and her played with the Maukilo HABA Sand and Water workshop for hours. We definitely plan to bring this with us on all our summer beach trips. It allows for perfect spilling fun! It retails for $19.49
2. Maukilo Bucket Valve:
The Maukilo Bucket Valve is a must when you go to the beach. A lot of times kids need water from the ocean to build the finest sand castles. While kids can easily can go and fill up a water bucket, it is not as easy after a few trips. With the Maukilo Bucket Valve is allows you to readily get water for your fort or sand castle. We used this at the beach and it was a great way to transport water back and forth, and very easy for Hayley to use to get the water out on the sand. It retails for $22.49.
3. Maukilo HABA Sand Bucket Scooter:
The Maukilo HABA Sand Bucket Scooter is an amazing summer toy that readily ables you to transfer, while simultaneously using all your kids sand toys. On the four wheel scooter that is included, the bucket can readily zip across any beach terrain.  It contains 1 bucket cart, 1 sieve, 1 sand car mold, and 1 sand trowel. Hayley loved using these toys in her sandbox. She had a blast filling up her scooter and playing in the sand. It is truly an all inclusive outdoor beach toy! It retails for $17.99.
Look no further than Maukilo HABA this summer for all your outdoor needs.
Buy it: You can buy any of these fine outdoor toys and much more at their website: Maukilo
Win it: One winner will receive all three toys as seen above. This would be a perfect summer gift for your kids and the complete package retails for over $60. This giveaway as run via rafflecopter so please make sure you click continue reading to see the actual giveaway. The only mandatory entry is to tell me which toy your kids like best from the list here: HABA Maukilo. Please leave the comment in the comment section proceeding this post. While the other entries are optional, I highly suggest you fill them out to increase your chances of winning. US only. GOOD LUCK!

a Rafflecopter giveaway
  Now hop onto the other blogs if you like for some other great prizes!
*Disclaimer: Please note that The Mommyhood Chornicles "The Summer Fun Giveaway Event" bloggers are not responsible for sponsors that do not fulfill their prizes. We have represented each sponsor with the expectation they will fulfill their prize and in a timely manner. We will contact the sponsor regarding your prize(s). The sponsors, in most cases, are shipping their items to you directly. We will make every effort to assist you obtaining your prize. If there is an issue with a sponsor, please notify the blog you won a prize from within 4-6 weeks for assistance, after that we may be unable to assist you. I was provided with these products for review purposes. As always, all my opinions are my own and not swayed by outside sources.