I was debating putting this post up in lieu of today's events that transpired. I want to personally send out many prayers and thoughts to the people who suffered in this imaginable horror of a tragedy in Colorado last night. I visited Aurora a few years back for a week and flashbacks are coming back to me, when I drove past the same theatre where 12 people were killed last night. It is an incomprehensive tragedy that is completely unfair. I also saw on twitter, that a fellow blogger was killed last night so I wanted to send my prayers to her family, as well as , to all the other people involved in the shootings last night.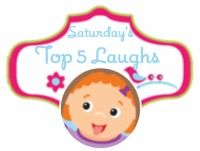 No onto my laughs. Please only link up a funny, cute, or top five laugh post. If you like, please spread this hop on social media sites or grab my button. I look forward to reading all your laughs!
5. Zane started saying Hay for Hayley. The way he says it is too darn cute. He goes around all day saying Hay.. Hay
4. Zane is still so addicted to his pacifier. He will suck on it all night long. We tried taking it away- it did not go over so well!
3. I just love the interaction between Hayley and Zane now. They officially starting to become friends. The other day, they were attempting to throw the ball to each other and both of them were giggling. It was so cute!
2. I got my new Maytag washer/dryer this week as part of being selected as a 2012 Maytag ambassador. I was so excited that I wanted to test it out right away. When I was done washing and drying it, the clothes still smelled. My husband said, "You were so excited..you forgot to put detergent in." Whoops!
1. Hayley has a teacher at her preschool who has some tatoos on her legs. The other day Hayley came home and said, Mommy, "Teacher x has stamps all over her legs." LOL!
Now onto your laughs: