Hi Everyone! As I am writing this post, we have no AC since 9 pm last night. In 100 degree weather, this is not good at all.  I am hoping the AC tech comes in a few hours!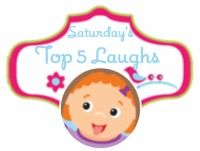 Anyway, enough complaining- we are here to laugh! Do you have a funny,cute, or top five laugh? Why not link it up and laugh! Check out the other blogs who link up too- I promise you they are funny! If you like, feel free to take my button or help me spread this hop on social media sites.
Now onto my laughs:
5. We went to the pool last weekend. Zane does not want to be in the baby pool- he emulates everything his sister does, so he wants to be in the big pool. Anyway, last week he walks over to the big pool and Hayley screams, "Zane go away.. This is only for people who can swim." I CRACKED up laughing!
4. I was really in the mood to go out for ice cream last night. Hayley is a huge ice cream fan so I asked her to go with me. Her answer was, "No mommy.. I am not in the mood for ice cream." What 3.5 year old is not in the mood for ice cream!
3. This is not really funny but cute. Zane is such a mommy's boy. If I put him down, he screams bloody murder. My arm is getting really tired holding a 27 pound boy!
2. Hayley started camp this week. Since she just ended school, I keep forgetting to call it camp, and end up saying Hayley lets go to school. Hayley always responds back, "Mommy how many times do I have to tell you, it is camp!"
1. I told Hayley if she is good and doesn't call out for me in the middle of the night, at the end of the week, we could go to the toy story. Well today, before I left for work, I told her that we can go to the toy store tonight because she was so good at night. She tells me, "Mommy, so if I am bad today, we can still go tonight." That little stinker!
Now onto your laughs:)