Happy Father's Day to all those wonderful Dads out there! I know for me, my husband is the rock of our family and I just want to personally wish him the best Dad's Day from Hayley, Zane, and I!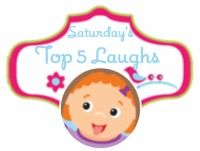 As always, this is a blog hop so link up any cute/funny/top five laugh post! We all like to laugh so why not link up:) If you want, feel free to take my button and help me share on social media sites. This is not mandatory though!
For this week, I am going to only share the one laugh relating to my husband and that is my engagement story. It is hysterical and deserves its own laugh!
-It was December, a week before Christmas and we were staying home because I just worked that day. My husband told me later he had all sorts of plans to take me out but we were both tired. Anyway, he let me open my Christmas stocking a week early and I was so excited because I absolutely love chocolate and he got me some of my favorites. Then I went to the bathroom and when I came back he said there was still something left in the stocking. At the bottom, I felt a ring box and started to get all excited. He told me why don't I take it out and I told him, if it was an engagement ring, I wanted him too. So, he gets it out and I knew right away it was my ring. The whole time the Patriots game is in and my husband is a huge fan. So, as he is taking out the ring, I see him still staring at the screen. So, I told him, if he was going to propose, can he shut off the game? You know what he did- HE MUTED IT!!! LOL!!! In all fairness to him, he usually is the most romantic guy- I think I deserve a redo on my engagement!
Now your laughs: