Under the direction of Adam Shankman ("Hairspray"), New Line Cinema's feature film adaptation of the smash hit Broadway musical "Rock of Ages" comes to the big screen.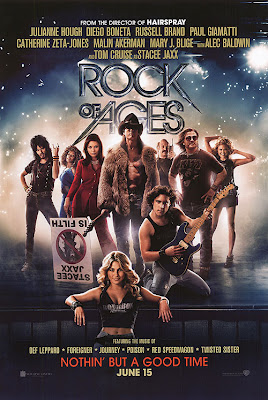 "Rock of Ages" tells the story of small town girl Sherrie and city boy Drew, who meet on the Sunset Strip while pursuing their Hollywood dreams.  Their rock 'n' roll romance is told through the heart-pounding hits of Def Leppard, Foreigner, Journey, Poison, REO Speedwagon, Twisted Sister and more.
The movie musical stars Julianne Hough ("Burlesque"), with actor/singer Diego Boneta in his feature film debut, Russell Brand ("Arthur," "Get Him to the Greek"), Oscar® nominee Paul Giamatti ("Cinderella Man"), Academy Award® winner Catherine Zeta-Jones ("Chicago"), Malin Akerman ("The Proposal") and R&B queen Mary J. Blige, with Oscar® nominee Alec Baldwin ("The Cooler," TV's "30 Rock"), and Oscar® nominee Tom Cruise ("Mission: Impossible – Ghost Protocol," "Magnolia," "Jerry Maguire") as Stacee Jaxx.
Shankman directs "Rock of Ages" from a screenplay by Justin Theroux and Chris D'Arienzo and Allan Loeb, based on D'Arienzo's musical of the same name.  The film is being produced by Matthew Weaver, Scott Prisand, Carl Levin, Tobey Maguire, Garrett Grant and Jennifer Gibgot, with Toby Emmerich, Richard Brener, Michael Disco, Samuel J. Brown,  Hillary Butorac Weaver, Janet Billig Rich, Shankman and D'Arienzo serving as executive producers.
Rounding out the "Rock of Ages" creative team are director of photography Bojan Bazelli ("Hairspray"), production designer Jon Hutman ("It's Complicated"), editor Emma E. Hickox ("A Walk To Remember"), Oscar®-nominated costume designer Rita Ryack ("How the Grinch Stole Christmas," "Hairspray"), Grammy-nominated music supervisor Matt Sullivan ("Dreamgirls," "Nine"), and Emmy Award-winning choreographer Mia Michaels ("So You Think You Can Dance").  The original score is by executive music producer Adam Anders and Peer Astrom (TV's "Glee").
New Line Cinema presents, a Corner Store Entertainment production, in association with Material Pictures, in association with Offspring Entertainment, an Adam Shankman film, "Rock of Ages."  Opening in theaters and IMAX on June 15, 2012, the film will be distributed worldwide by Warner Bros. Pictures, a Warner Bros. Entertainment Company.
WEBSITE:                www.rockofagesmovie.com
****I saw an advanced screening of the film this past Tuesday night. I will fully admit that I am a Rock of Ages groupie! I saw it on Broadway twice and also recently saw the touring show in my hometown. When I first heard they were going to make the movie and who they were going to cast, I was slightly confused. Tom Cruise…for real- Can that guy even sing?
Well, the movie was so much more than I ever imagined. I give it a A++++++. I laughed along for a little over two hours and rocked to all the amazing songs of the 80's. Let me tell you that their rendition of Journey's "Never stop believing" was the greatest rendition second to Journey singing it. It was AMAZING!!! Rock of Ages, the movie, takes you back to all the incredible hits from some of the best bands of the 80's- Def. Leopard, Poison, REO, and so much more! From the opening number to the last, I was rocking out in my seat!
Now onto the cast: TOM CRUISE was above incredible- there are really no words to describe his performance. He played the main lead of Stacee Jax who is the main idol of all the 80's groupies at the time. From seeing it on Broadway, I knew the one who played this role needed to have a fantastic voice and all I kept thinking is how is Tom Cruise going to excel in this role.  However, Tom Cruise blew it out of the water with his singing and his acting. Julianne Hough was good but I think her voice stood to use some improvement. I laughed out loud when Alec Baldwin and Russell Brand did their singing numbers on stage- the two had great chemistry and it showed throughout the movie. I loved that one of my favorite singers, Mary J. Blige, had a role in this film- with that incredible voice, she was a great added lead.
I highly suggest you run to your theatre and check out Rock of Ages. I will fully admit that I am going to see it again this week! LOVED IT!!!!! Be prepared to rock…Be prepared to laugh…Be prepare to sing!
Here is a sneak peak of the trailer:

* I saw an advanced screening of Rock of Ages this past week. All my opinions are my own and not swayed by outside sources.