I am so unbelievably excited for the Olympics. The Olympics is one of those special family times that we all gather around the television and watch. Being a sports fantastic, as well as a sports player, I get so excited when the Olympics is on!  This year I am thankful that Procter &Gamble and Family Dollar are teaming up to represent a fantastic sporting fund.
P&G is partnering with Lolo Jones, who is best known as the world champion hurdler and U.S. Olympic hopeful. They recently announced that P&G is donating $25,000 on behalf of Family Dollar to the P&G Team USA Young Sports Fund.
Jones attended eight schools in eight years while her single mother often held down two jobs to support her family of six. In third grade, the Jones family settled in a basement of a Des Moines-area church. Lolo attributes her success to the support of her mom and community, as well as hard work and determination.
As told by her, "Growing up we didn't have a lot of money so my mom really had to stretch her budget. My family really benefited from the great values we received on P&G products from Family Dollar.
I highly suggest you check out Lolo's site and her journey at http://www.followlolorun.com/ where you find out about Lolo's journey as well as some fantastic deals/coupons on your favorite P&G products. I am so intrigued by her journey and I know you will be as well. She is a real class act! I also am thankful for P&G for giving us some great coupons! Being  a dentist, I purchase so many of their wonderful products including Crest, Scope, and Oral-B!  If those P&G don't interest you, they have so many other great products including Tide, Dreft, Bounty, Prilosec, Pantente, and many more!
Thank you to P&G and Family Dollar for supporting such a great cause in helping children with the love of sports!  Check out their short video as they are gearing up of the London 2012 Olympic Games:

WIN IT: One winner will receive all these wonderful products thanks to Family Dollar and P&G:  Tide® Pods, Febreze® Auto Air Freshener, Downy® Unstoppables (full size), Crest® 3D White Toothpaste, Clairol® Lash Blash Mascara – all in a reusable Family Dollar shopping bag.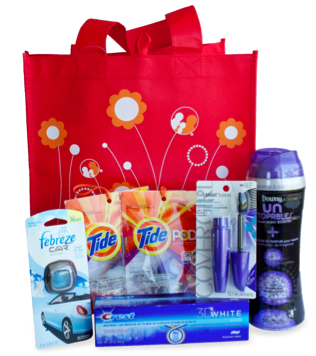 To enter, fill out the rafflecopter below.  The only mandatory entry is to tell me which is your favorite Olympic Sport in the comment section proceeding this post. While the other entries are optional, I highly suggest you fill them out to increase your chances of wining. Good Luck!
*Thanks to Procter and Gamble for providing me with the giveaway prize pack. I received the same pack as well for reviewing purposes.  As always, all my opinions are my own and not swayed by outside sources.