My journey to becoming a Maytag Ambassador started in early May when I received an email from the wonderful company I work with, Mom Central, to apply to be a Maytag ambassador. I almost didn't apply because we were on our only vacation of the year and I promised my husband that I would stay away from all social media sites including email. I left all forms of technology that I have at home except for my little iPhone which I hid from my husband. He wanted me to enjoy vacation and I understood why. While he was sleeping I was going through my messages, when I saw the opportunity to apply to be a Maytag Ambassador. I instantly woke up my husband and told him, I needed to apply to this one opportunity. He asked what it was and when I told him, he said GO APPLY- WHAT ARE YOU WAITING FOR? The only problem is, we were on a cruise and I couldn't apply from my iPhone. So off I went to the Internet cafe on the cruise ship and applied!
I am so glad I did because I was chosen as one of the 25 Ambassadors to be represting Maytag in 2012! I am honored that I will be receiving Maytag Bravos XL high efficiency top-load washer and dryer. When I got the acceptance letter, I may or may not have cried tears of joy! The reason being is our current washer/dryer are at least 10 years old and have been functioning poorly for about a year now. We had all sorts of problems with our washer-dryer and I just about put in the towel in, so to speak, and bought a completely new set. We had so many issues with our current set including my washing machine leaking when I put it on a certain setting- So frustrating!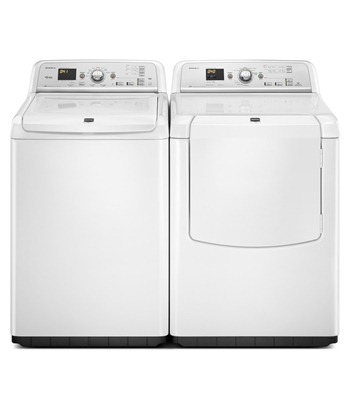 Now, I don't have to worry about dealing with my old washer-dryer anymore, as I will be receiving a brand new Maytag Bravos XL high efficiency top-load washer and dryer. I am so excited to receive the set for so many reasons. My main reason, besides being able to actually enjoy doing laundry again (yes, call me weird but I like doing laundry on a working set), is that I never had the experience to test out a high efficiency washer-dryer before! I love the fact that this set will use much less water than traditional washing machines. The set is also simply gorgeous and has some many wonderful features. With this set, I will be able to do fewer washes and clean more clothes than I was ever able to do!
I hope you will follow my journey as I do several posts and videos through the next couple of months. I will also be tweeting out my journey so be sure to follow #MaytagMoms to follow the 24 other wonderful blogs and I on this journey.
* A huge THANK YOU to Mom Central and MayTag for picking me to be a 2012 Maytag Ambassador.
I wrote this post participating in an Maytag Moms Dependable Laundry Ambassador program by Mom Central Consulting on behalf of Maytag. I was provided with the Maytag washer and dryer set to facilitate my post.