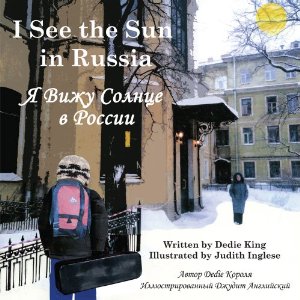 I see the Sun in Russia from Satya House is the long-awaited forth book in the award winning I see the Sun series written by Dedie King and illustrated by Judith Inglese. The Russian installment provides a glimpse into the daily life of an average Russian family as seen through the eyes of Anton, a young boy growing up in the city of Saint Petersburg.
In a world where global events dominate the news and our children have exposure to other cultures, this book offers a unique perspective that simply is not available anywhere else. What's more, the story is captivating! Anton's parents work long days to provide for their family. Like many Russian families, they have small country cabin called a dacha, where they can relax on weekends and vacations in the summer. Anton has a talent for music and attends a special public music school. His brother on the other hand goes to a regular public school. Despite a turbulent history and ongoing economic and political hardships, the story portrays that the people of St. Petersburg retain great pride in their heritage, the beauty of their city and the richness of their culture.
Like the other books in the I See the Sun Series, I see the Sun in Russia was first written in English. Then it was translated into Russian by Irina Ossapova, a woman who lived her entire life in St. Petersburg. I See the Sun in Russia was vetted independently for authenticity and accuracy and is richly illustrated with collages made from original photographs and colorful drawings. It includes an overview of the country, a glossary of unfamiliar words, and a map that highlights where Russia is on the globe.
Hayley loves I see the Sun in Russia. Her deceased great-grandma was fresh off the boat from Russia, so it is great to bring the Russian traditions to her in this book. We enjoy learning all about the Russian translations on the back as well. We hope one day to visit St. Petersburg as we have heard it is truly gorgeous. The pictures in the book are wonderfully illustrated and are perfect for those who have children.
You can purchase I see the Sun in Russia on Amazon for $12.95.
*I received this book for reviewing purposes. As always, all my opinions are my own and not swayed by outside sources.