Father's Day is just over a week away. Is everyone ready? Well, I have a fantastic giveaway from two sponsors that will complete your Father's Day gifts: Balance bars and OXYwater. This giveaway is great for everyone but if your husband or father is into getting fit, you especially do not want to miss this.
Balance Bar:

If you are like me- I barely have time to sit for a meal. I am sure your husband feels the same way. Between getting the kids ready and getting out of the door for work…where does food fit in? Hurrying out of the door is an everyday occurrence in my household and finding the time to eat for myself is hard! I get the kids fed but me- that is a whole new story! Thankfully I have fell in love with Balance bars. I keep a stash with me at the dental office so the minute I walk in, I have a plethora of flavors to choose from. They keep me going till my next meal and taste so GOOD! I have also been known to eat them for a midday snack or even for lunch, if my patient load is crazy that day.
Balance Bare bars are the new bars from the makers of Balance Bars. Balance Bare bars are designed to include a 40-30-30 balance of carbs, dietary fat, and protein, the needed caloric amounts to keep the body full longer and provide lasting energy to keep full. I know, if I have my Balance Bare bar at 8 am in the morning, I am quite satisfied till lunch strikes. I have zero hungers pains between meals.

These bars offer fiber, protein, and 19 essential vitamins and minerals. These bars are different in that they have a delicious coating on the bars that satisfy ones sweet tooth. I know for me, I like a balance of sweet and salt, and these bars do just that. Flavors include Sweet and Salty Peanut butter, Blueberry Acai, and Sweet and Salty Chocolate Almond. My favorite of the three was Peanut butter since I am obsessed with peanut butter and these bars taste just like you take a tablespoon from the jar. These were brought directly to my work though as we do not allow any peanut products in the house due to Zane's allergies.
These bars are terrific and taste like a granola bar, but much more flavored and bigger! With 5 grams of fiber, 19 vitamins and minerals, 15 grams of protein, 6 grams of Whole Grain, and antioxidants- how could you go wrong. You can buy Balance Bars in most grocery stores or online at Balance Bar website. The very affordable Balance Bar BARE Father's Day Gift Set is only available online atwww.shopBalance.com while supplies last. The introductory price of $17.84 – valued at $27.00 – includes ground shipping and handling within the U.S. (Tax where applicable is not included.) To qualify for free ground shipping, orders must be placed by June 11, 2012.
OxyWater:

Before I begin, I have to tell you that I never heard of this line before. A PR firm I work with wanted to send me this product to review and at first, I was hesitant because I like certain brands of water- sort of a water snob. But I figured my readers would love to hear about a new water line and I was intrigued. A few days later my OxyWater arrived and I have to say, I am addicted. Well, let me say I went through the water in a few days and I received a lot of OxyWater! I had to go to Walgreens to replenish.
So, what is OxyWater? OxyWater has a broad appeal due to its totally healthy approach. It is the perfect drink choice for hydration for exercise, light pick-me after work, non-sugar alternative for kids, delicious choice for light meals, no-guilt drink for weight loss, and smart option for diabetics. Not only is OxyWater pure water with extra oxygen, it is also full of natural ingredients that support health and well-being, as well as having all natural flavors from fruits and vegetables. OxyWater has all the essential vitamins, minerals, and electrolytes plus antioxidants equal to 3 servings of fresh fruit. Best of all- there is no sugar, no artificial sweetener, no caffeine. OxyWater is just natural and refreshing water.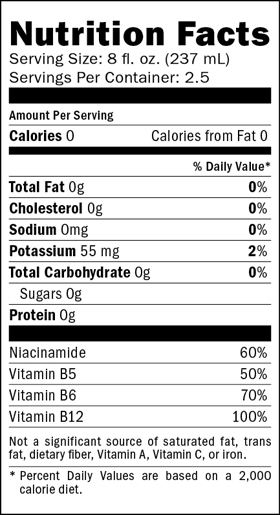 I fell in love with this water because it gave me the natural jolt from a long day with kids and those equally long days at work. I can't drink caffeine, so this Oxywater was a perfect alternative for me. The taste is delicious! I was worried about that, because some energy waters taste "bleh" to me but these OxyWaters were so good! I tried to limit myself to one a day, for no other reason than I wanted to conserve the waters I had to review. That did not happen- I ended up drinking two a day! I love Oxywater and I am sure you will too!
You can purchase OxyWater at Walgreens, Vitamin World, Meijer,and Drug Mart. Be sure to check out OxyWater for more wonderful testaments to this great product line.
GIVEAWAY: This giveaway has a short turn around time. Giveaway winner will be notified on Friday by 9 am and will have to 3 PM to confirm. Please make sure to check your emails on Friday from 9-3 because if you miss it, I will need to pick a new winner. Unfortunately since this giveaway is only a few days, I have a short turnaround time for the winner. Thanks for understanding. Now what are you getting!! Well, 1 winner will receive  an assortment of 15 Balance Bare bars in three flavors, Blueberry Acai, Sweet and Salty Chocolate Almond, and Sweet and Salty Peanut Butter, a Balance Water bottle, and a "Bare Hug" card. Picture above for what you will be getting. The winner will also get a a case of OxyWater! For this giveaway, it is run via rafflecopter so click read more to see the actual giveaway. The only mandatory entry is to tell me if you have ever tried balance bars or oxywater in the comment section proceeding the post. While the other entries are optional, I highly suggest you fill them out to increase your chances of winning. Good Luck! US only
a Rafflecopter giveaway

*Thank you to the Pr firms for allowing me  to review their products. As always, all my opinions are my own and not swayed by outside sources.